"Glorious Sensation" - Review of the Month, January 2015
Revolutionary and unique are words that get thrown around a lot in the sex toy world, but every once and awhile we come across a product that uses a new method of stimulation that really is revolutionary. The Womanizer USB Rechargeable Clitoral Stimulator (£129.99) is one of those products - it uses suction to take the clitoral stimulation to a new level.
But don't take our word for it! Below is a quote from our favourite user-uploaded review from the past month, which describes a Womanizer orgasm:
"I experienced one long continuous spasm, no pulsations, just my whole pelvic floor flipping out into one glorious sensation that seemed as if I was in freeze frame. It didn't stop until I moved the device off my clitoris." Read the full review by BBWinch here.
We're giving BBWinch a £100 Lovehoney voucher for uploading our favourite review this month, and we've also chosen some runners up which you can see below.
Want to write a sex toy review and win a great prize? Read our guide to Writing Great Product Reviews to get started!
---
We've picked three fabulous reviews from January as runners up. Each member wins 2,000 Oh! Points to spend or save on their Lovehoney Community account. Congratulations!
Runners Up
---
glitterary's review of TENGA Egg Lovers Heart (£9.99)
"I love the idea of these. It's fun to have something to add a bit of variety to your common-or-garden hand job, and the elegance of both the packaging and the soft egg itself sets TENGA eggs apart from most other toys aimed at people with penises - the comparatively gender-neutral packaging is definitely a plus. It immediately feels like you're buying a higher-quality sex toy."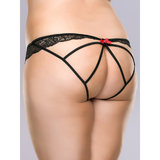 TheMinxyMilly's review of Lovehoney Plus Size Spoil Me Satin Cage Brief (£5.00)
"The way the cage brief covers, or rather doesn't cover my Oh-So-Bodacious Booty, makes me feel incredibly attractive. I cannot say that about any other lingerie I own, nor any other clothes. I have always felt very unhappy with my body. Yet, this undergarment changes that for just a few hours."
BlindMonkey7's review of Fifty Shades of Grey Restrain Me Bondage Rope (£16.99)
"As for the rope…. Well… the cat was around and immediately started to attack the ends of the rope. No worries, though, as from thorough testing from Ginger (the cat) no fraying or pulled threads. There's even a cap on the end which reminds me of a bullet casing, stopping the end from unwinding and slowly making its way down the rope. It looks like expensive rope!"
---
You may also like: