Ever Felt Like You're Not Getting Any? You're Not Alone...
If you're a regular to the Lovehoney blog or are signed up to our mailing list, you'll know that we love asking the nation all about their sex lives.
It's a hard life!
Our surveys ask the public about everything and anything - essentially, we do the snooping so you don't have to, and if we're lucky then a newspaper or magazine picks up on our work. Hurrah!
In case you didn't take it yourself, one of our latest surveys was all about sexual dry spells, getting down to the nitty-gritty of how long we're going without sex, and the reasons why.
Over 1,600 people signed up and took the survey, and the results are pretty interesting.
Were you one of our willing participants? Want to find out the results and see how (and if) you compare to the 'national average'?
We're releasing the data for all… Just read on!
---
86% of people have been through a sexual dry spell at least once in their life, with 35% of people having gone over one year without making love. Wowzers!
The good news is that dry spells seem to affect everyone at some stage, and for at least half the participants questioned, there were at least three or more dry spells in their lives.
Our survey found that these sex dry spells don't just happen when people are single. Almost three-quarters of married people (72%) have experienced a prolonged break from sex with their spouses, and 9% of coupled people have experienced a dry spell which lasted over a year.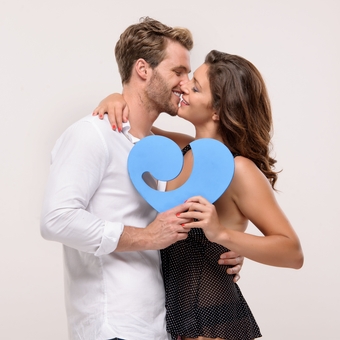 For one in six of our participants (17%), a break from sex lasted around two years, but the most common time period for both men and women to go without was between three and six months.
Both men and women found this period of abstinence increasingly 'frustrating' as it dragged on and they were keen to bring it to an end.
Interestingly, women coped better, with 23% saying they were fine going without, compared to just 13% of men.
Four out of ten women (39%) and half of men (48%) admitted they were more likely to be promiscuous at the end of a sex drought, but men are far more likely to satisfy their pent-up desire with a casual encounter.
36% of men end their dry spells with a one-night stand compared to 24% of women.
36% of women have resumed their sex lives after a break by sleeping with a friend with benefits, whilst just a quarter of men take this option.
More than a quarter of women (27%) and a fifth of men (19%) have deliberately abstained from sex during their adult lives for one reason or another.
But it's not all doom and gloom, as our survey showed that 95% of women and 98% of men were 'a lot happier' when they were having regular sex and orgasms. The key to happiness is clearly sex and love!
What are your experiences of sex droughts? Comment below and let us know!
---
You may also like: