Ten Reasons to Kiss Your Lover This Sunday!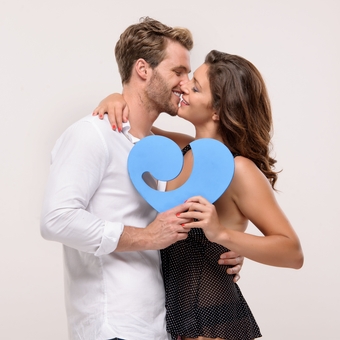 Sometimes it seems like there's a "day" for everything - it started with Mother's Day and Father's Day, but in July alone we're expected to celebrate National Shed Week, International Reggae Day and National Fishing Month.
However, there is one celebration coming up on Sunday* that we're happy to get on board with: International Kissing Day!
Let's face it - there's nothing like a good snog with the person you love to set the heart racing. With that in mind, we've put together a blog post with the top kissing facts for your enjoyment.
To encourage some sexy smooching this weekend, pick up some Lovehoney Flavoured Lube Bumper Pack (£4.00), which encourage kissing all over the body!
Read on below, and don't forget to leave a comment!
*It's also National Fried Chicken Day on Sunday, but we don't care so much about that one.
1. The record holder for the longest kiss goes to Ekkachai and Laksana Tiranarat from Thailand - they snogged for 58 hours, 35 minutes and 58 seconds in February 2013.
2. Although kissing is normally a sign of romantic affection nowadays, it is thought to have originated with primate mothers passing chewed food to their children by placing their lips over the child's. Having said that, kissing is an almost exclusively human pursuit, apart from the odd chimp who smooches their partners.
3. Planning to commit a crime? Make sure to kiss someone passionately for two minutes just beforehand. Their DNA will stay in your saliva for at least an hour.
4. Here's a strange one - apparently, over half of people who became romantically involved with a colleague say it all began with signing off emails with a "x". Do you finish texts or emails with a kiss?
5. Lovehoney's first ever TV ad was called "The Kiss":
6. The above video shows a couple sharing a good morning kiss, which could actually be the secret to wealth! Relationship expert Julie Peasgood notes that "Even an affectionate peck can be beneficial. In fact one study suggests that people who give their partner a goodbye kiss before going to work, have 20-30% higher incomes than those who don't! Psychologists believe a morning kiss generates a more positive outlook on the day ahead - and that goes for everyone, whether we work or not."
7. Suffer from hayfever? Regular kissing can alleviate your symptoms. It's also proven to produce endorphins that relieve stress and boost self-esteem.
8. The scientific name for kissing is "Philematology". Sounds a lot more exciting than stamp-collecting! Someone who studies kissing is called a philematologist, while anyone who is afraid of or dislikes kissing is referred to as a philematophobe.
9. Even your dentist wants you to kiss more! Kissing stimulates saliva production, which decreases your risk of plaque build-up.
10. Scientists now think that there's a lot more happening during a kiss than just tongue tennis. Research shows that kissing can be a way of "trying" potential partners to see if they would make good parents. The same study found that frequent kissing was more associated with a happy relationship than regular sex.
Do you have any fun kissing trivia, tips or tricks to share? Make sure to add them in the comments below to be in with a chance to win. Winners will be notified by e-mail before Friday, 11th of July.
---
You may also like: