How Will You Celebrate National Bed Month? Plus, Win A Restraint Kit (Worth £35!)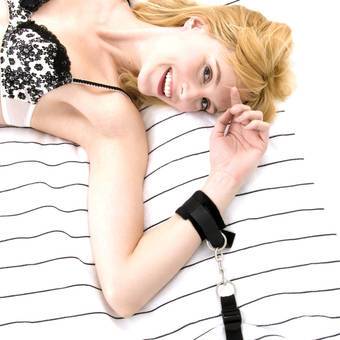 There's nothing like a lazy Sunday morning in bed, and as March has been officially declared National Bed Month by the Sleep Council, it only seems appropriate to spend a little extra time in the sack…
The Sleep Council recommends replacing your bed after 7 years, by which time you'll have spent a whopping 20,000 hours using your mattress for sleep (and other bed-related activities).
To help make your bed a better place to be, we're giving one lucky reader the chance to win a Bondage Boutique Almosta 4Posta Under The Bed Restraint Kit (worth £34.99). Just comment below on or before Friday, the 7th of March to be in with a chance to win.
This nifty restraint kit contains adjustable straps that transform your bed into a playground - and best of all, it works with any sized bed!
Read on for more bedtastic news, and don't forget to leave a comment for your chance to win!
---
In the market for a new bed? Your mattress could have a massive effect on your sex life, so make sure you do plenty of research first. We love this in-depth report which compares different types of mattresses (including air, water, latex, spring and memory foam) in terms of suitability for sex. Do you think your bed can have an impact on your sex life? [Mattress Types and Sex Suitability Ratings and Comparison - Sleep Like the Dead]
A recent survey reveals that half of British couples sleep with their backs turned on their partner, while one quarter can't bear they lover touching them while they sleep. Body language experts claim that your sleeping position says a lot about your sex life - do you think nightime cuddles lead to sex in the morning? Are you more likely to have sex if you embrace your partner during the night? [What Couples' Sleeping Positions Reveal About Relationships - Huffington Post]
Our Video of the Week shows you how to avoid that most annoying result of sharing a bed with someone - the dreaded trapped arm.
The winner of last week's prize is CuriousKara. Remember to comment below for your chance to win a Bondage Boutique Almosta 4Posta Under The Bed Restraint Kit (worth £34.99)! The winner will be chosen at random and contacted by email, so make sure to use one you check regularly.
Wait! That's not everything
If you've liked what you read, why not pass it on? Click on the buttons below to share it. Don't worry, you'll get a preview of what it'll look like (on Facebook and Twitter) first. Thank you, and hopefully see you this time next week!