Make 2014 The Year of Great Sex! Plus, Five Chances to Win!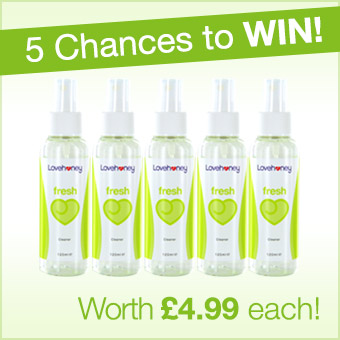 Happy New Year, one and all!
If you're like the majority of us, you'll have started off the year with the best of intentions - to get fitter, lose some weight or learn a new skill. However, it's the sad truth that many of these promises fall by the wayside come February.
But your sex life is one thing you shouldn't ignore this year. There's no reason why 2014 be the year you have the best sex of your life!
Why not get your year off to a good start by cleaning up your toy box?
We're giving away 5 bottles of Lovehoney Fresh Sex Toy Cleaner (worth £4.99 each) this week to our lovely winners. To be in with a chance to win, just add your comment below before 5pm on Friday the 10th of January.
Read on below for more tips and tricks for starting the year off with a bang.
---
If you're having casual sex, using condoms needs to be a resolution you stick to. Check out our How to Use Condoms guide to make sure you're fully protected. Our Video of the Week serves as a reminder that condoms can't protect you from everything, though. Especially Miley Cyrus.
The winner of the Sqweel Go USB Rechargeable Oral Sex Simulator (worth £39.99) from last week is Caroline. Remember to comment below for your chance to win one of five Lovehoney Fresh Sex Toy Cleaner (worth £4.99 each)! The winner will be chosen at random and contacted by email, so make sure to use one you check regularly.
Wait! That's not everything
If you've liked what you read, why not pass it on? Click on the buttons below to share it. Don't worry, you'll get a preview of what it'll look like (on Facebook and Twitter) first. Thank you, and hopefully see you this time next week!