"Bring the Thunder" - Lovehoney's Review of the Month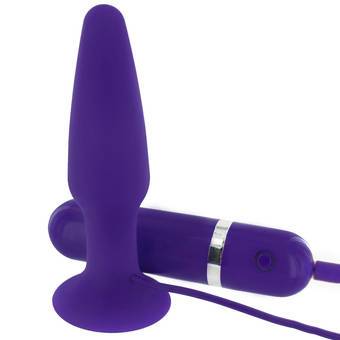 Reviewing products is a great way to say what's on your mind and tell us exactly what you think about your latest purchase. It also helps future shoppers know what to expect when shopping with us.
To say thank you for all your hard work every month we select our favourite user-uploaded review to win £100 to spend at Lovehoney - not bad eh?
This month's winner reviewed the Bedtime 10 Function Vibrating Butt Plug (£19.99) and was particularly informative for those new to anal play, which we loved!
"I finally unboxed it and was immediately taken aback by its size. Although I'd seen the pictures and read the specifications, it seems a lot bigger and scarier when you're holding it in your hands wondering how on earth it'll fit. I'm happy to report, however, that with a little lube it slides right in, and sits fairly comfortably, even for a complete novice like myself."
Read the whole review by Panzer.
Read on to find out if you're one of our lucky runners up…
---
Three other reviews were chosen as runners up for November, each receiving 2,000 Oh! Points to spend on anything they like from Lovehoney. Think you've got what it takes to be our next top reviewer of the month? Submit your review now to be in with the chance of being a winner in December!
Runners Up
Cock o' the South's review of the Tenga Flip Hole Masturbator
"Then the visual stimulation began to kick in and things started to happen. Soon I reached that 'I can't believe what she's doing' moment and had that Champagne-in the-veins feeling that marks the point of no return. I knew what to expect: I've experienced it tens of thousands of times before. I was wrong. My whole cock glowed with pleasure and I had an orgasm that was right at the top of the Richter scale."
Khaleesi's review of the Tie & Tease Sex Game for Couples
"it really helped me get into the 'character' of being submissive, rather than trying to conjure up my own scenario involving a naïve milk maid… Which I'd be frightened would turn out cringey and quite frankly find uncomfortable to do… I'd highly recommend if you don't have a whip or a flogger getting something like the Lovehoney Tease Me Beginner's Bondage Kit. With this game it's a perfect gift!"
Lovebird_x's review of the Mandy Mystery Sexy Fishnet Mini Dress
"Something that stood out about this dress was that wearing while 'doing the deed' was incredibly comfortable. It didn't roll up the way most sexy dresses would, but rather was able to stay right where it was and stretch to accommodate all sorts of leg spreading, stretching etc movements. The sensations the fishnet on skin provided made things that bit more exciting for both of us, so rather than just looking pretty this dress actually provides something more sensual."