Top Ten Bondage Gifts for Couples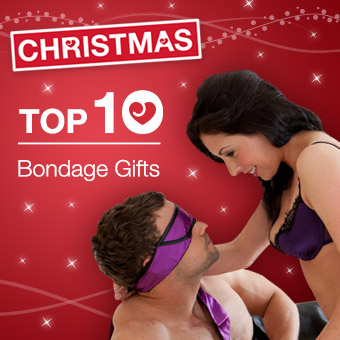 Christmas is all about bringing people together, and what better way than to indulge in a little bondage play with your partner?
Whether you and your loved one are diehard fans of Fifty Shades of Grey, or complete newbies to bedroom bondage, we have something for you at Lovehoney.
To get you started on your kinky Crimbo shopping, we've picked out our top 10 bondage gifts for 2013.
You'll find a selection of products perfect for bondage beginners as well as seasoned restraint experts, ranging from luxury floggers and ticklers through to sensual blindfolds and soft cotton rope.
And with prices from £5.00, the only thing that'll be tight this year is your well practiced Shibari knot!
---
Wrap this silky soft blindfold around your lover and rob them of their sight for erotically enhanced sensations.
Maximise the effect of every touch and carress by depriving your partner of visual distractions. With a bendable nose bridge that you can adjust as desired, no peeking is allowed!
Perfect for beginners, this unintimidating blindfold comes in rich purple satin with black trim.
Lovehoney Bonus!You can't find our Tease Me range anywhere else, so snap it up at Lovehoney.
See all Blindfolds.
Still looking for the perfect Christmas gift?
If you're still looking for a gift for that special someone, take a look at the Lovehoney Christmas shop, where there's a hand-selected range of gifts with something to suit everyone. We've got unmissable deals, so don't forget to check out our bundle offers and the Deal of the Day for great savings on fantastic gifts.
You can Contact Customer Care, who will be happy to help you find the perfect gift. You can send an email any time, and telephone or live chat to an experienced advisor during the following hours:
Mon - Fri: 24hrs
Saturday: 8am to 4pm and Midnight - 2:30am
Sunday: 9pm - Midnight
You can also tweet us at @LovehoneyHelp.
The other great place to look for people's advice on sex toys is on the Lovehoney Forum, where our community is on hand 24/7 to give their opinions and tips.
Contact Lovehoney Customer Care | Visit The Lovehoney Forum
---
You may also like: