Top Ten Lingerie Gifts for Christmas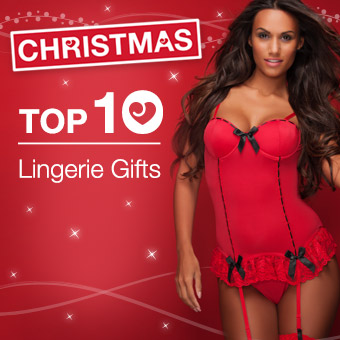 Looking for the perfect present for your loved one? Lingerie is the classic Christmas gift that you both can enjoy.
Whether you're doing the giving or dressing up as a surprise, there's nothing like some sexy lingerie to add excitement to your sex life.
At Lovehoney, we have an exquisite selection of hand-picked lingerie to help you raise the Christmas spirit.
If you're not sure how to choose lingerie for your lover, check out our How to Buy Sexy Lingerie guide for men, which should help you determine what size your partner wears and which styles she loves.
Read on for our top ten lingerie gifts to help make this Christmas one you won't forget!
---
Need more help?
You can Contact Customer Care, who will be able to help you find the perfect toy. You can send an email any time, and telephone or live chat to an experienced advisor from 8am-10pm Monday-Friday and 8am-4pm Saturday.
The other great place to look for people's advice on sex toys is on the Lovehoney Forum, where our community is on hand 24/7 to give their opinions and tips.
Contact Lovehoney Customer Care | Visit The Lovehoney Forum
---
You may also like