Sexy or Scary: Which Halloween Costume Will You Choose?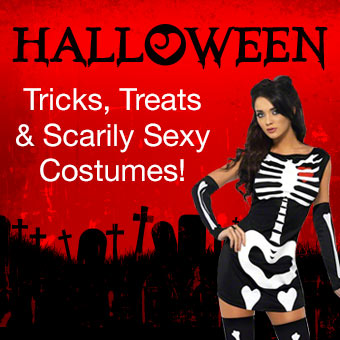 Want to look scary this Halloween without sacrificing the sexy? We've got you covered!
This Halloween we have plenty of sexy costumes to transform you into a terrifying zombie, naughty devil or freaky skeleton.
We also have some frighteningly good special offers to ensure this Halloween is the best ever.
Get a free Death by Orgasm Bullet Vibe (normally £12.99) with selected costumes or receive free stockings with the purchase of selected skeleton costumes. What's not to love?
If scary isn't your thing, we also have plenty of cute and sexy costumes to choose from. Why not stand out from the crowd as a fairytale princess, bunny girl or even a cheetah?
Read on for our top three Halloween costume ideas, and don't forget to add your opinion in the comments.
---
1. Zombie Chic
Finish the look
---
2. Sexy Skeleton
Finish the look
---
3. Lusty Devil
Finish the look
---
---
You may also like: