Take Full Advantage of Daylight Savings With Our Giveaway!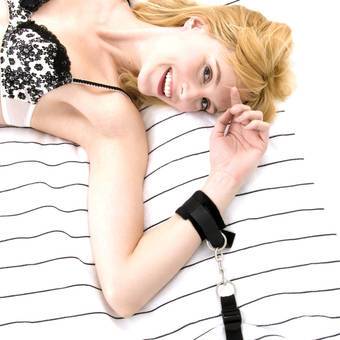 In exactly one week, the clocks in the UK go back an hour, meaning we all get an extra hour in bed.
Although it's dubbed "National Sleep In Day", we can think of a much better way to spend that extra 60 minutes in the sack…
To help you fully avail of the stolen hour, we're giving you the chance to win a fabulous prize that transforms any bed into pleasure central.
Win a Bondage Boutique Almosta 4Posta Under The Bed Kit (worth £34.99). Simply add your comment below before Thursday, October 24th to be automatically entered into the draw.
Not only that, we've found the top facts about the relationship between sex and sleep to ensure you know what you're up against.
So lay back with a coffee and enjoy your Sunday morning read…
---
The Sleep Council (did anyone know that was a thing?) explain their findings in our Video of the Week. I love the tips for learning how to sleep better.
The winner of the Dreamgirl Working Late Sexy Secretary Outfit (£27.99) from last week is Andrew. Remember to comment below for your chance to win a Bondage Boutique Almosta 4Posta Under The Bed Kit (worth £34.99). The winner will be chosen at random and contacted by email, so make sure to use one you check regularly.
Wait! That's not everything
If you've liked what you read, why not pass it on? Click on the buttons below to share it. Don't worry, you'll get a preview of what it'll look like (on Facebook and Twitter) first. Thank you, and hopefully see you this time next week!