Hit Me Baby, One More Time! Britney Spears Gets Fifty Shades Fever as She Wields Official Crop
One of the Lovehoney gang made a fantastic spot yesterday - pointing out that the Princess of Pop, Britney Spears is brandishing a Fifty Shades of Grey Sweet Sting Riding Crop in the bondage-themed music video for her new single, 'Work B**ch'.
Britney can be clearly seen playing with the riding crop in a series of revealing outfits and bondage-themed situations, including a scene where she holds a leather-clad woman on a leash.
Wahey!
We're all rather excited to hear that the pop legend herself has been swept away with Fifty Shades fever, and naturally the bosses here are delighted that Britney chose the crop from our Official Fifty Shades of Grey Pleasure Collection, which was launched last year and is now selling all over the world.
The single will feature on Britney's eighth studio album (has it really been that many?!) and it's rather exciting to see she's become a bit of a fetish lover.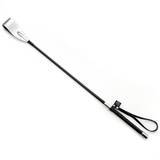 Our co-founder Neal Slateford said: "The video oozes sex - Britney hasn't looked this hot since the Hit Me Baby One More Time video. We are thrilled she used the Lovehoney Fifty Shades crop. Fifty Shades introduced millions of women to the wonders of bondage - it seems that Britney is another convert!"
She has recently been speaking about the filming of the video, admitting: "I had to learn to use a bullwhip. I may or may not have have hit Ben (Mor, the director) with it a few times."
You can watch the full video here.
---
You may also like:
---