Gear Up For Underwear Day with a Sexy Lingerie Giveaway!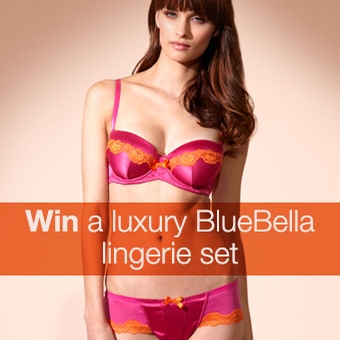 With International Underwear Day coming up this week, it's time to ditch your boring old undies for some sexy knickers.
Whether you like sweet briefs and boyshorts or sultry crotchless underwear, we've got you covered with a wide range of underwear in regular and plus sizes.
And it's not just women who have all the fun - we also stock a large selection of sexy underwear for men to help him flaunt his assets!
To help celebrate International Underwear Day tomorrow, we're giving you the chance to win a luxuriousBlueBella Millie Satin and Lace Bra (£8.00) and matchingMillie Satin and Lace Shorts (£5.00).Simply comment below before August 9th by 5pm to be automatically entered.
In flirty, summery colours and available in a range of sizes, the BlueBella Millie set is perfect for day-to-day wear and equally suitable for evening seduction.
Read on for your weekly fill of sex news…
---
The music video for Robin Thicke's "Blurred Lines" has been causing controversy recently, with viewers saying the nudity of the female dancers is sexist. Our Video of the Week shows what happens when an all-female music group decide to create a parody by swapping male and female roles. With over a million views already, it's causing quite a stir. Warning: Lots of sexy male underwear! Which version do you prefer?
The winners of the Bunny Toyfriend Waterproof Silicone Tickler (worth £26.99)from last week is 'protectyournuts'. Remember to comment below for your chance to win a BlueBella Millie Satin and Lace Bra (£8.00) and matching Millie Satin and Lace Shorts (£5.00)! The winner will be chosen at random and contacted by email, so make sure to use one you check regularly.
Wait! That's not everything
If you've liked what you read, why not pass it on? Click on the buttons below to share it. Don't worry, you'll get a preview of what it'll look like (on Facebook and Twitter) first. Thank you, and hopefully see you this time next week!