Taking Sexy Photos: Top Tips & Special Offer!
You may have seen my last blog post in which I wrote about My Boudoir Photography Experience. If it's made you start thinking about doing a Boudoir photo shoot for yourself, there are lots of things to think about before you step in front of the camera.
Whether you choose to pose at home or go about it professionally, here are some of my top tips for having some sexy pictures taken.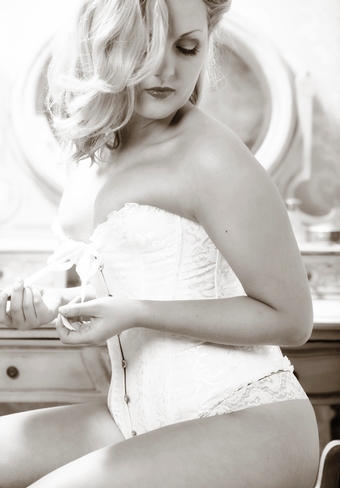 What look do you want to achieve? First things first. Do you see yourself as a vintage glamour queen, a rock chick or a soft and fluffy kitten? Although you'll be able to change your look in terms of your outfit and props, your hair and makeup will remain the same so think about the kind of vibe you want to give off. Dark, heavy makeup and big hair is great for a sultry or kinky look, whilst red lips combined with otherwise barely-there make up oozes old-time glamour.
Choose a range of different looks. It's really important to choose the right lingerie to take with you. As well as thinking about how sexy your body will look, it's also important to be comfortable, as you might be wearing your items for a while as you try to capture the perfect photograph. You can always take more items than you need and leave some out. I took about ten different bra sets and three corsets with me but actually only wore four for my shoot. My photographer helped me choose which outfits would look best for each scenario.
Think about items which create shape. Professional lighting helps create wonderful shapes, but clothes and posture makes a huge difference as well. If you want to create curves, try reducing your waist with a corset or waspie. Wearing ruffles can add volume to bottoms and busts whilst giving a flirty and feminine look. Basques allow you to take gorgeous timeless photographs without constriction, and they also create a wonderful silhouette. Never underestimate the phenominal effect of a pair of high heels on your body shape and confidence levels!
Boost your best bits. If you love your boobs, take amazing bras which will highlight your assets. Equally if you're not keen on an area of your body, let your photographer know what you're concerned about as they should do their best to either make you love your wobbly bits or help you achieve the coverage you want. Satin robes are a great way to cover more whilst still oozing sex appeal. Why not ask your partner or a close friend what they love the most about your body? We all see our bodies differently, and many of us are far too critical, so asking someone else can be much more effective than just looking in a mirror!
Stockings are essential! Whether you wear them with a suspender belt or just as hold-ups, never underestimate the power of a good pair of stockings. Teamed with your favourite high heels (or nothing but a smile), stockings are the classic symbol of seduction, whatever look you're trying to achive.
Try something new. If you're going for a range of looks, try to make one of them something you'd never thought of trying before. You could transform yourself into a BDSM queen, posing with whips or floggers, try your hand at a burlesque shot with nipple tassles and a feather tickler? We also stock lots of cheeky costumes! If your images are a gift for a partner, a good tip is to let them see the photographs of you wearing a stunning new babydoll or chemise before making them wait to witness the real-life version. Now there's an incentive to get through the week!
Practise at home. I mean looking in the mirror and striking a pose, Madonna-style. Yes, it may be cringe-worthy at first, but if it helps you to get an idea of which poses give you great shape before you're in a situation where you're on a time limit, then it's worth it. Take practise pictures beforehand if you need a visual focus to work on.
Go for classic, timeless shots, not cheesy stripper pics. Make sure you come away from your day with some images that YOU love. Although your shoot may be a gift for a lover, they're still your images and you should be able to look back at them and be glad you did it for yourself. The best boudoir photographers make you look natural and at ease rather than forced and showy.
Communicate with your photographer - but remember to listen to them as well! Take along some images you've seen in magazines that you like the look of, and don't be afraid to voice your concerns or express your feelings during a shoot. If you have a creative idea, then share it! Equally, remember that your photographer wants you to look your best, so take their advice on board.
Relax and have fun! Doing a photo shoot is a luxury, so treat it like a day out. You'll look far more natural if you give yourself a moment to relax, and drop your shoulders. Get plenty of sleep the night before and drink lots of water as well as eating well. Not only will it show in your pictures but you'll feel great too. Don't avoid eating beforehand just to look slimmer, as you don't want to go fainting half way through! Above all, enjoy being made over and feeling like a Goddess for the day. You deserve it!
For more information on lingerie styles, how to choose the right lingerie for your shape and how to buy lingerie as a gift, check out the Lovehoney lingerie buyer's guides here.
The Offer
Divine Divas is a family run studio based in Bath, Somerset. However, if you fancy a boudoir shoot and can't get to the South West, the Boudoir by Fresh group to which they belong have studios all over the UK, and have kindly agreed to offer a special deal exclusively for Lovehoney blog readers. Hurrah!
Treat yourself or a lover to a photography session at a studio near you. Enjoy having your hair and makeup tended to, a 1 - 2 hour light sculpting photography session, re-touching of all images free, and £100 credit towards any prints or products – all for just £25.
That's an incredible saving of £175!
This offer ends 31 July 2013.
Below are Boudoir by Fresh's terms and conditions.
Terms & Conditions: To claim your offer you must quote 'Lovehoney' upon booking. Offer includes a free consultation, makeup, hair style and boudoir photoshoot as well as £100 credit which may be spent on prints or products. Prints start at £95 (A4). Not all studios offer champagne. Entrants must be over 18. A Boudoir By Fresh photo shoot consists of various images taken in your own lingerie and accessories. Studios are not permitted to offer semi nude or artistic nude photography. This offer ends 31 July. One offer per person. For photoshoots booked through the Fresh Group, a £30 fully refundable deposit is required upon booking, which is refunded at the photo viewing session. 48 hours cancellation notice is required, otherwise deposits will be lost. All Boudoir by Fresh studios are independent companies. The organisers and promotional partners are not responsible for any services provided in its members' studios, including makeup, hair styling and photography taken with this promotion. Each studio has confirmed its willingness to participate in this promotion. The Fresh Group cannot be held responsible should any studio choose to decline or accept vouchers for reasons of its own. They cannot be held responsible for any personal loss or injury at participanting venues.