How Important Is Love To Sex, Really? Plus, Win A Lelo Vibrator!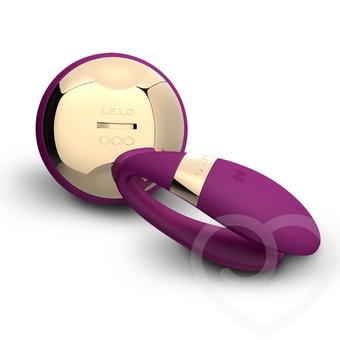 We've all heard the age old notion that sex is more pleasurable when you're in love.
While scientists and psychologists debate the connection between love and sex, experts agree that climax is reached more easily when you're around someone you trust.
Do you think sex is more pleasurable when you're in a committed relationship? Or do you find orgasms equally pleasurable with any partner?
To help you make up your mind, we're giving away a luxury Lelo Tiani Couples Vibrator (left) to one lucky reader.Simply comment below before May 24th to be in with a chance to win.
This remote controlled vibrator slips inside the woman's body to pleasure her internally and externally while he gets added sensation during sex.
Read on for the best reads about love and sex from the experts, which may help you see sex in a new way.
---
Researchers have discovered that the emotions of love and lust originate in related parts of the brain. As desire grows into deeper feelings of love, they move to a different part of the brain. So it would seem that sexual desire and love are inherently connected - who'd have thought? [Love, Lust and the Brain - Psychology Today]
Sexpert Tracey Cox discusses the psychology of one night stands, explaining that according to a recent survey, couples who had sex on the first date were as likely as couples who waited to have sex until later in the relationship.

When it comes to relationship advice, we trust this lady. Her bestselling book Supersex for Life (£14.99), right, is full of hints and tips for keeping your sex life active and interesting in a long term relationship. [Can First Date Sex EVER Lead to Love? - Daily Mail]
Not only does love have a powerful effect on your brain, it could have good consequences for your heart! Studies show blood pressure is lower when you're around someone you love. [Studies: Love Is Good For Your Heart - ABC News]
This amazing video from ASAP Science explains what happens in the brain as we fall in love. We love their explanation of all the chemical processes taking place that comes down to the simple explanation - we love being in love.
The winner of the Dreamgirl Black Diamond Butterfly Lace Bodystocking from last week is Kirsty E. Remember to comment below for your chance to win a luxury Lelo Tiani Remote Controlled Rechargeable vibrator! The winner will be contacted by email.
Wait! That's not everything
If you've liked what you read, why not pass it on? Click on the buttons below to share it. Don't worry, you'll get a preview of what it'll look like (on Facebook and Twitter) first. Thank you, and hopefully see you this time next week!