My First Vibrator: The Milky Bar Kid
It is 6 inches and a creamy white plastic, surrounded now by the detritus of its plain brown wrapping. Me and Kate stare, giggling.
Masturbation was about to take a leap into a new and exciting phase.
It's 1986 and we are just across the threshold into our twenties. Bestest of best friends and flatmates, this purchase with all its glamour of the forbidden, also offered a convenient way to do what we both liked doing.
Because if your hands and arms don't move in the average way, a session of self-love is not a simple matter.
It had taken several weeks build up to get to this point. Kate saw the advert in a women's magazine, one of those tiny ads, which exclaim 'personal massager for all over relaxing relief'.
Guest post by Penny Pepper
While we were not greatly experienced in any practical sense with sex - with or without men –-we were extremely well read on the subject. Everything from the 'Diaries of Anais Nin', to 'The Women's Room' and 'Fear of Flying'. Not to forget magazines like Cosmo and She that occasionally broached the subject of women and masturbation on the problem pages.
Reassured by the advert's details of discreet packaging, we ordered it. Days passed in furious apprehension of it falling out the box, the postman leering it towards us, or it being left on the doorstep for overly curious neighbours. The fear of discovery of our nympho dirty-girl toy put us in a daily sweat of embarrassment, and outlandish denials were prepared should the worst happen.
The only mention of masturbation in either of our families had focused around the jokes made about men. They wanked, tossed off, played with themselves, ha-ha, boys will be boys etcetera. That Kate and I did masturbate was a confession only shared between us when safely away from parental homes.
Much more scary was that we are disabled women! It was a double taboo then and to some extent it is now.
Yet both of us learnt the pleasure of a tingly bit of clit play from women a little older than us - disabled women who had made their own discoveries. In my book 'Desires Reborn', I recreate a fictional version of these funny-sad times in a story called 'Girls Wank Too'. Because we ladies do wank, and the prudish and fearful need to get over it.
Part of the learning for myself and Kate was how to compensate for impaired mobility. We had come a long way with this problem from 'special' hidden hair brushes with long handles, to the cliché of a candle. There were also careful surreptitious negotiations with those assisting us to undress for genital access, as not for one moment could we bare to arouse a suspicion that we were aiming to do something shameful in their eyes.
But to go back to that very first plain little sex toy… It doesn't look or feel especially appealing. I put the batteries in with a bit of a struggle and flick the switch.
It jumps to life with a thrilling, buzzing promise. We both laugh.
'You go first with the-the milky bar kid,' I stutter to Kate, handing it over.
She pulls a face. 'Oh scaredy-cat. All right. I'll test drive the milky bar kid. But don't listen. Put the radio on loud.'
I grin as she scoots into her bedroom. I turn up Soft Cell and make an effort to read the paper. Ten minutes later Kate appears, looking flushed and happy. She shakes her head as I go to speak.
'No, just have a go. I can't talk about it till you have. You have to know for yourself. I'll wash it first of course.'
We both sway with laughter and she goes to the bathroom. Clean vibe handed over and twelve minutes later I return to the lounge with matching flushed skin, in a haze of deep-contented satisfaction. I didn't have to worry about my hands not moving well, my reach being limited, my fingers weak - the job was done by that unassuming length of buzzy-busy plastic.
Day one of the milky bar kid, a glorious success. And the first of many pleasurable episodes, of many strange, funky, delicious and efficient vibrators all my very own.
This is the second guest blog post by Penny Pepper. Read the first post: Did You Really Say That?
---
About Penny Pepper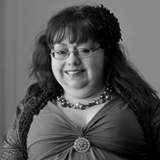 Penny Pepper is a writer, poet and performer. Her key interests are exploration of difference and diversity, and unpicking the irresistible dark underbelly to life - always with a questioning smile. Genre-defying and quirky, her work is infused with her passion as a veteran inclusive arts activist, including a focus on mainstreaming disability creativity. Nude modelling and burlesque performing are a few of the other roles she has found herself in as she strives to break down barriers and discrimination.
Penny has won several accolades for her work including an Erotic Oscar, been nominated for the Emerging Artist Award at Dada International Festival, winner of DAIL magazine prose performance monologue and placed 2nd at Story Slam Live as well as receiving a commendation for her work.
Photograph by BBC Four Thought
In her latest ebook, Desires Reborn, Penny's explicit collection of short stories prises open the long-closed door to disabled people's relationships.