Is This The Most Discreet Vibrator Ever Made?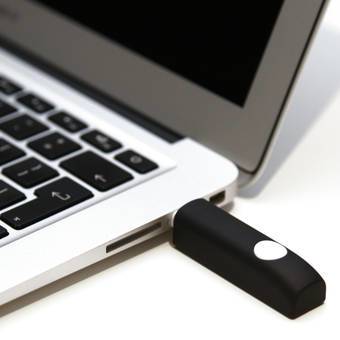 The future of sex toys is here, and it's charging in a Starbucks near you!
Introducing the brand new Lovehoney Flash USB Rechargeable Mini Vibrator £29.99. Sleek, petite and discreet, this powerful mini vibrator is whisper-quiet and looks uncannily like a memory stick, making it arguably the most discreet pleasure product on the market.
Unlike many other USB chargeable vibrators, the intimate stimulating tip of the Flash is removed during charging and can be kept somewhere clean and safe whilst the motor is charged via a computer or USB mains charger in a much less 'obvious' charging method.
Take a look at a Flash we plugged into a Lovehoney Mac earlier today (pictured, left). Now imagine it's plugged into a commuter's laptop as they take the crowded morning train to work, or as they complete a report in a busy cafe. Would you have any idea that this tiny black rectangle holds within its powerful motor three hours' worth of intense orgasm potential?
Neither would we!
We know from experience that bullet vibrators are best-sellers, as they're small enough to carry with you wherever you go and are extremely couple-friendly. But what makes the rechargeable Flash so special?
Bye bye batteries!
The biggest downside to the faithful bullet vibrator is that they often require expensive and difficult to source batteries, which don't last all that long. Worse still, when the battery starts to run low in a traditional bullet vibrator, it begins a sad and frustrating downward spiral as the power dwindles into nothingness.
With a rechargeable vibrator, the power is never compromised. You'll be alerted by a flashing light that it's nearly time to charge, giving you a heads up to pop it into your computer for a while. No more agonising over how to get your hands on an N battery at two in the morning when you're half way through a session.
Look after the pennies…
With traditional bullet vibrator batteries costing on average £2 each, it doesn't take long until your smallest sex toy starts to become an annoying financial drain. With this incentive, rechargeable bullet vibrators have been widely embraced by several of the more upmarket sex toy brands (we knew it, check out number 2 on our Sex Toys Prediction blog).
Lovehoney are proud to introduce the Lovehoney Flash Vibrator as an affordable way to upgrade your sex toy collection. At just £29.99, the Flash is a high quality USB chargeable vibrator at an incredibly competitive price.
They'll never know.
Ideal for those living with parents or nosy roommates, the Flash is arguably the most and discreet vibrator on the market as its whisper-quiet motor makes it near silent whilst its ergonomic design can't be told apart from a memory stick whilst charging. Plus, at just 12cm it fits neatly into handbags and make-up cases for pleasure anytime.
As well as the financial and practical benefits of the Lovehoney Flash, this super powerful vibe is also 100% waterproof, for fun anywhere!
Overall, I'd say the Lovehoney Flash Vibe is a welcome addition to the world of rechargeable sex toys. It's elegant, doesn't stick out like a sore thumb and can be charged on-the-go without anyone batting an eyelid. It's waterproof, silent, powerful and best of all, it's great value for money. Excuse me whilst I go and grab one…