Did You Really Say That?
Everybody stared at me. It's what people do when you're different. I was a wheelchair user, and as I turned 18, I wanted the staring to be for something other than my wheelchair. So I took to punk, in ripped stockings, red hair, blonde hair… hair of multi-coloured styles. Stare on, I declared to the world. I'm here to shock!
But this occasion presented me with a new twist.
I'd left the record shop, clutching a precious 12", and a woman, gawping at me, bent down with a huge grin.
'I have to ask. Can you… do it?'
My face flushed as red as my hair.
She persisted into my silence. 'You know, sex. What with your er … situation.'
'**** off,' I said with my best punk sneer, and she had the nerve to tell me off for rudeness before stomping off. But inside a mixture of anger and despair made me want to slink into a corner with my Sex Pistols LP.
Guest blog by Penny Pepper
Besieged by desires I could not name, hitting me with a power I did not expect, it seemed day by day strangers were quite at ease in asking me personal questions about my body - and my sexual organs.
Imagine it. You're in a queue, on a bus, and some woman (it's most likely to be a woman) bends down, and starts with the deadly line, 'hope you don't mind me asking but…?'
Maybe I should have got into the habit to say, yes I do mind. But for years I was shy, a timid thing, despite the punk hair, and used to the interrogations about my body. I would usually nod and look flustered, hoping they would go away.
The questions are variations on a theme. A theme on my genitals, explicit or subtle.
'Can you have children?'
'Can you, erm, get pregnant?'
'You know, can you … Do It?'
'Can you feel below the waist?'
'Are your woman's parts working?'
'Do you have One?'
Instead of 'one', it can also be 'private parts', 'organs', and occasionally a whispered 'va-gi-na'. And so on.
My personal favourite is, 'Does everything work down below?'
I remember an aunty who referred to my vagina as 'the down belows' and there's a whole blog of fun to be had with the euphemisms given to our genitals.
These days I would turn the questions back on them, disingenuous. 'Yes I do have a vagina, how about you?' It invariably shuts them up.
When dawdling in online flirt chat rooms, men have often asked me 'Can you have sex?' which I suppose is to be expected when the main point of such chat is to connect and then engage in some real life rumpy-pumpy. But it makes me roll my eyes when it's the first question, and asked precisely because I never hide my disability.
As my writing developed, I drew on all the experiences I'd had, and of those around me, and put them into my fiction. Good, bad, surprising. Things can be tough, relationships don't always work out, and we are fed so much crap about what is and isn't acceptable. It's good to realise this is as true for disabled people as anyone else.
We're all curious about sex - nothing wrong with that, yet I am staggered at how dull people's imaginations are, if they can ask such ridiculous questions to my face. The media are just as bad - their curiosity about disabled people's sex lives goes in phases. It's still a taboo, and because of my writing, I still get asked to comment in TV programmes about it, each new producer believing they are the ones to have discovered It. Wrong. Same questions, different eager faces asking them.
Now in my middle age, two husbands and a several boyfriends later, flirty Ben burst into my life. The second time we met, he leant close to me and said, 'Can I ask you something personal.'
I held my breath. No, please, not a 'Down Below' question.
'Are you a thong or a pantie girl?' he whispered. I grinned back, relieved.
'Cheeky. I guess you'll have to wait and see.'
He did, but not for long, and the answer to that question is strictly between me and him …
---
About Penny Pepper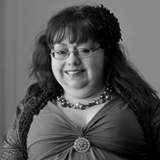 Penny Pepper is a writer, poet and performer. Her key interests are exploration of difference and diversity, and unpicking the irresistible dark underbelly to life - always with a questioning smile. Genre-defying and quirky, her work is infused with her passion as a veteran inclusive arts activist, including a focus on mainstreaming disability creativity. Nude modelling and burlesque performing are a few of the other roles she has found herself in as she strives to break down barriers and discrimination.
Penny has won several accolades for her work including an Erotic Oscar, been nominated for the Emerging Artist Award at Dada International Festival, winner of DAIL magazine prose performance monologue and placed 2nd at Story Slam Live as well as receiving a commendation for her work.
Photograph by BBC Four Thought
In her latest ebook, Desires Reborn, Penny's explicit collection of short stories prises open the long-closed door to disabled people's relationships.