How To Be Better In Bed: Confidence and Losing Inhibitions
I spent 10 years working as a high-class escort, and in 2009 my autobiography The Girlfriend Experience was published documenting my sexcapades. I'm currently working on a sex tips book and a book titled Why Husbands Stray.
My sex experience is literally hands on, and I learnt a lot about sex and what men want during my time as an escort, and it's probably not what you think!
Guest post by sexpert Rebecca Dakin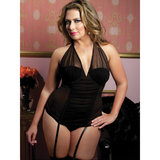 One of the main gripes I heard from guys is that their partner won't let them see them naked; they hide under the bed covers. If your partner wants to have sex with you, then he/she desires you and you shouldn't be worrying about any skinny or flabby bits.
Women who are confident with their bodies are a huge turn on for men. Don't let your body hang ups get in the way of having good sex. Some of the biggest women have the best sex! It is nothing to do with size, good sex is about being confident with who you are, your looks and what you want in bed. Lovehoney have some great quality pieces in their lingerie and plus size lingerie ranges.
We are all guilty of it and in fact we do it really well - we focus on the things we don't like and not the things we do. Try to make a conscious effort to not be looking in the mirror and thinking 'my boobs are too saggy', 'my belly is too flabby' and 'my stretch marks are ugly' and definitely never ever say these things out loud, because every time you do you are reaffirming these negative thoughts.
Think Gok Wan when he does How To Look Good Naked. The women on there don't change their body shape when they are with him; they just learn to change their opinion of their body. If you can become confident with how you look your sex life will improve drastically.
Top 10 Tips to Improve Body Confidence
1.Never say out loud or think anything negative about how you look. If you feel negative thoughts pushing into your head, consciously push them out again.
2.When you look in the mirror you are automatically drawn to what you don't like about your body. Switch it to look at the parts you do like, even if it's something small like your belly button!
3. It's the repetition that makes us believe so if you're always saying 'I hate my bum', then you will believe your bum is horrible. So try saying out loud first thing in the morning and last thing at night whilst looking in the mirror, at least 3 things that you like about your body, no matter how small. If you have the patience and discipline to do this repetition in the long term, you will change the way you view your body for the better. However you must say it like you mean it.
4. Ask your partner to tell you the parts he likes about your body and why. Keep remembering them, especially when you get your negative thoughts trying to push their way in.
5.Go shopping on Lovehoney with your partner to find lingerie and play wear that will accentuate the bits of your body your partner likes. If you feel sexy, then you will exude sexiness.
6. If you get given a compliment, always say thank you, never discount it, even if you don't agree with what the person is complimenting you on. This is someone else's opinion and not your own - take the compliment and own it. Allow yourself to feel good about it.
7. Instead of diving under the bed covers when things are about to get intimate, use low lighting or candles to create a more romantic atmosphere and if you're not comfortable naked wear sexy lingerie that will enhance your body and make it look its best.
8. Remember that being confident with your body is a turn on for your partner – do what ever it takes to find this confidence. Things like burlesque, pole dancing and belly dancing are all dances that help hugely with body confidence.
9.If funds allow there are various therapies that can help you change the way you view yourself – there are many powerful therapies that can change mind sets for confidence and self belief.
10. Like Gok Wan arrange an artistic, glamourous naked photo shoot and take your man. Once you see photos of yourself looking amazing, and looking your best it will boost your confidence.