The History of the Vibrator and UK Release of "Hysteria" (Finally!): Lovehoney's Week in Sex News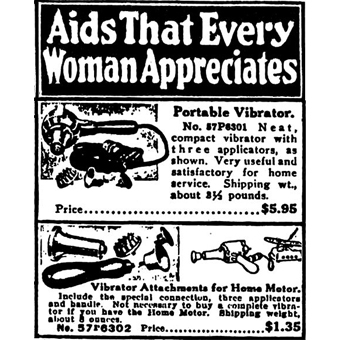 Here at Lovehoney we take vibrators very seriously, so we're understandably very excited about the release of "Hysteria" on Friday 21st September. We feel like we've been waiting an eternity for this film to come out in the UK and it's finally here!
Check out our List of Cinemas Showing 'Hysteria'.
Set in London in the early 1880s, this film takes place at a time when women were being treated for female 'hysteria' by receiving a pelvic massage from their doctors until their symptoms were relieved - that's right, women had to go to the doctor to have an orgasm!
Starring Maggie Gyllenhaal and Hugh Dancy, this movie follows the Dr. Mortimer Granville, who develops quite a fanbase due to his great talent for… massage. However, he soon realises that his hands can't cope with the demand, so he invents a device that women can use in their own home - the earliest vibrator.
Read on for a brief history of hysteria and vibrators, and some more shocking historical tit bits…
Hey baby, fancy blowing the grounsils? You look like a proper lobster kettle… No, we're not celebrating international speak like a pirate day, we're practising with our newly learned Euphemisms for Sex from the 19th Century.
What did they get off on in the past? Check out these 10 Hilarious and Unsexy Historical Erotic Toys. None of these are a patch on the Brass Bound Buggery Box - an early male masturbator - we once found but, alas, Sild Hall will not permit women (and therefore the Lovehoney bloggers) to visit the 'Sealed Room' containing their erotic collection.
---
A Brief History of Hysteria (and Vibrators)
4th Century BCE: The idea that a "wandering uterus" (literally, hysteria) can cause strange symptoms in women is established. Women's sexual organs will be tied to unexplained behavior for the next 4,000 years.
2nd Century A.D.: Greek physician Galen concludes that hysteria's cause is sexual deprivation. The treatment he recommends is marriage. He is also the first to suggest the remedy of "digital manipulation," describing the success of a woman he treated in this way: "From that time on, she was free of all the evils she felt."
10th Century: The Persian physician and prolific medical writer Avicenna recommends a "rubbing cure" for hysteria, which he says will allow troubled women to "find peace."
1653: The renowned Dutch doctor Pieter van Foreest writes about his treatment for hysteria -- involving pelvic massage "to paroxysm." He especially advises it for "widows, those who live chaste lives, and female religious."
18th Century: "Hydrotherapy devices," often involving well-aimed nozzles, come into vogue as a therapy for a vast variety of female disorders at European health spas - including here in the hot springs of Bath, Somerset, where Lovehoney is based.
1850s: Leading French physician Pierre Briquet announces the results of his study of female hysteria: it is caused by sexual frustration and the cure lies in the perfectly medical treatment he names as "la titillation du clitoris."
1869: The American inventor George Taylor comes up with a steam-powered massage machine known as "The Manipulator." Physicians treating hysteria quickly adopt it, but Taylor urges caution when using it on female patients in order to prevent overindulgence. 1883: The first electric vibrator is patented by Joseph Mortimer Granville and, despite his desire that it be used for muscular relief, is soon offered as a treatment for hysteria.
1899: The Vibratile, a simple, $5 vibrator made out of wire, is advertised in McClure's Magazine, a popular 19th Century monthly, promising a cure for neuralgia, headaches and wrinkles.
Early 1900s: Dozens of "portable relaxation devices" are now being advertised in a variety of ladies' magazines.
1918: Vibrating massagers are offered in the Sears Roebuck Catalog, advertised as "very useful and satisfactory for home service." Hilariously, this is a full decade before they offered vacuum cleaners for sale.
1970s: The vibrator comes out of the closet, celebrated as a tool for sexual liberation.
1990s: The 'rabbit vibrator', which features a clitoral stimulator as well as an internal shaft, is invented. Various companies vie to be named the inventor of the rabbit, but it was probably the "Original Jack Rabbit" by California Exotics.
1998: TV show Sex and the City runs an episode called The Turle and the Hare, in which Miranda buys Charlotte the Pearl Rabbit Vibrator - which she grows extremely fond of!
2007: The Supreme Court refuses to hear a case questioning the constitutionality of state laws that prohibit the sexual use of vibrators in several states, making them still illegal for sexual purposes in Alabama, Georgia, Indiana, Louisiana, Massachusetts, Mississippi, Texas, and Virginia.
2012: We've come a long way. Some modern vibrators have delightfully Victorian looks and names (we're thinking of The Eroscillator in particular) while others like Sqweel 2 have seemingly reinvented clitoral stimulation for women.
And finally… here's the trailer for Hysteria, which is released in the UK on Friday 21st September. It's not what they call in the biz a 'saturation release' so it won't be everywhere, but if you live near a multiplex in a big city you're likely to be able to catch it.