Hippie at Heart? Try This Free-Lovin' Sex Toy
In 2012 rechargeable vibrators are king. They're economical, easy to use and are quickly repowered when they're running on empty. You might be surprised that my sex toy pick this week is a battery-powered vibe.
There are times when rechargeable vibrators just aren't convenient, and one of those times is when you're off on your travels. I've made no secret in naming Lelo Mia (£34.99) as my favourite all-purpose bullet vibrator, but in the absence of a USB socket your power is going to cut out sooner or later, leaving you in the lurch.
I recently travelled to Budapest for a particularly long festival which saw me camping in the woods for 8 nights, devoid of any power supply for my beloved bullet. I therefore had to pick an alternative sleeping-bag buddy for the duration of my stay. I wanted something with varied function with resonant vibrations to keep me happy and the Lovehoney Bedtime Bullet Vibrator (£19.99) ticked all of my boxes.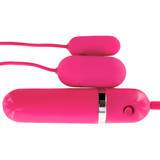 Powered by AAA batteries that didn't need replacing for the entire week, the Bedtime (daytime, anytime!) Bullet Set offers superb output that's incredibly sustainable for a battery-powered vibe. It comes with two bullets - a larger one that offers more rumbly vibrations and a smaller that has a higher frequency whir to it. Both bullets are suitable for insertion but the larger offers better internal stimulation.
The convenient push-button control has illumination for easy operation in a dark tent and the smooth surface required minimal lubrication to make the most of its skills, so I didn't need to carry on a bottle of lubricant. Score! I have to admit, I would easily put this bullet on a par with Mia for power and it even has more choice when it comes to patterns.
So where does the free-lovin' come in? Well, I made a friend who had never used a sex toy and, as I'd only used the larger bullet, I was able to give her the power pack and the unused bullet. In a more ordinary situation of course, you and your partner could have one each.
Two high-powered vibrators for less than a crate of beer? Awesome!