We Love to Love Spanking
Spanking is a practice that teeters on the edge of vanilla and BDSM. You don't have to be into the bells and whistles of fetish fun in order to enjoy the odd slap on the behind during sex, and there's a lot of fun to be had with the bare palm/buttock combo in the boudoir.
If you do enjoy the odd botty spank then you might consider trying a spanking paddle. These simple bat-like toys offer a much needed extension to the hand when it comes to face-to-face positions, allowing you to try spanking in new ways.
If you're a little sheepish about making the move from palm to paddle, the Love to Love spanking range may well be your ticket to paddlesville. The Love to Love Spanking Paddle, 'Spank Me Baby' Spanking Powder and 'Girls Don't Cry' After Spanking Cream turn paddle play into a whole new bat game.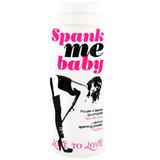 The range features comic-book-style pictures and bold designs in pink, white and black, veering away from the traditional BDSM visual that we're accustomed to and offering a vanilla-friendly aesthetic that feels less gimp and more pop culture.
What's really unique about the range is the addition of two cosmetics. The spanking powder is designed to make spanking more visual, just sprinkle a little onto the buttocks pre spanking and your smacks will cause a misty cloud to rise with each hit. Once you've finished up spanking, use the after-spanking cream to massage and soothe the skin, leaving it peachy soft.
Although the cosmetics could easily be written off as unnecessary, I've grown an affection for their ability to transform a casual spanking into a sensual spanking ritual. Awesome!