Louisiana Lounger Sex Toy Machine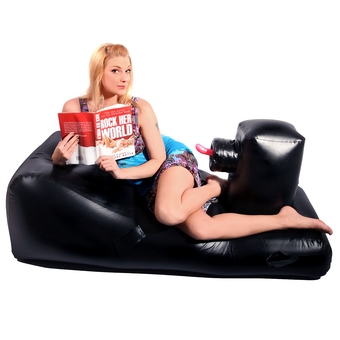 There are few things as expensive as sex furniture, sex dolls and sex machines in the sex toy world. These intricately detailed pleasure givers take a lot of thought, craftsmanship and effort to put together as well as a bulk load of materials. It's no wonder they cost a pretty penny.
Every now and then a mould breaker comes along that sticks a pointy tongue out in the direction of convention, leaving me WTFing in the most splendid of ways. This week's Awesome Sex Toy combines two of the most expensive sex toy types available and slaps a surprising price tag on it to boot.
Fans of sex machines and bondage furniture, I give you the Louisiana Lounger Sex Toy Machine (£149.99).
This spectacularly economical bit of kit incorporates a bondage couch, sex position furniture and a thrusting sex machine in one inflatable package.
Its simple style is a winning combination that allows users to experience several erotic experiences from a singular platform.
The couch itself is beautifully angled for comfort, allowing you to lie back and enjoy the pleasure - whether a partner or the sex machine is doing it for you. The raised head also makes for a great spanking bench, something the makers obviously think too as they've kindly supplied four velcro cuff restraints at the sides of the couch.
The sex machine is housed in its own inflatable block which slides into the couch at the foot end, inviting you to splay your legs akimbo at either side or relax backward into doggie style to enjoy the remote-controlled thrusting. Yes…remote controlled too!
Three insertable vibrators are supplied - a G-spot vibrator, a small realistic vibrator and a large realistic vibrator, offering a wide variety of sensations. The vibes are suitable for use aside from the machine for vaginal play and can be used both vaginally and anally when connected to the thrusting sex machine.
It even comes with its own foot pump for quick and easy inflation. There really isn't anything they haven't thought of.
A bondage ready sex couch with an integrated sex machine in the base and 3 different vibrators to play with? Seriously awesome!