Ball Sack Vibrator
Male sex toys tend to fall into three categories: there are ones you put your penis in, ones you put on your penis and ones you put in your ass. Seems fairly logical, doesn't it? But this week's Awesome Sex Toy defies convention by having nothing to do with your penis or your derriere, no Siree. The Adam and Eve Cyberskin Ball Sack Vibrator (£24.99) is all about your balls, baby.
This inventive vibrator has been designed to slip over your scrotum to give you a delirious cupped sensation to accompany masturbation, foreplay and other sexual pursuits. It's made from Cyberskin for a skin-like feel that provides a comfortable cradle for your testes without being overly restrictive or inhibiting.
The genius comes courtesy of a bullet vibrator which slots into the base of this sack snuggler, transforming it into a whirring, shaking massager for your babymakers. Unlike a cock ring it doesn't restrict blood flow to the penis, so you won't experience numbed sensations or prolonged plateau, allowing you to enjoy enhanced pleasure without putting off your climax. Just pop it on as a side dish to your usual pleasure and enjoy the intensified sensations it brings.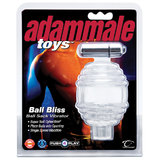 This little ball bag of fun has its benefits for us ladies too. Pop one of these on your fella before doggie-style sex and every cheeky slap you receive from behind is accentuated by the bullet vibe. This additional pleasure for you paired with his intensified enjoyment is sure to make sex with the Ball Sack Vibrator memorable for all of the right reasons.
A buzzing ball bag bonanza? Awesome!