The Dude From More Sex Please, We're British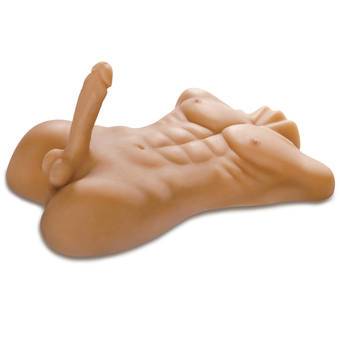 This week's awesome sex toy is the Pipedream Extreme Realistic Male Sex Doll (£449.99), as seen being measured by me with the Official Lovehoney Depth Probe in Channel 4's "More Sex Please, We're British".
This buff bod is one of the finest examples of male sex dolls I've ever had the privilege to fondle. Perfectly formed with spectacular musculature and a lob-on so fierce that you can practically see it throbbing, this stud of a doll definitely has the right visuals.
Of course, he has no head, arms or legs, but these are minor details when you're faced with such a randy Adonis (and this also makes the doll less expensive, which is good for the pocket).
The most appealing part of this realistic sex doll is his incredible lifelike texture. Running your fingers across his body feels like real skin and flesh, especially if you gently warm him before play. His penis features a solid centre with a softer outer texture that perfectly emulates the hard-yet-soft feeling of an erection.
The only little detail he's missing is a prostate, but in place of the gland you'll find a glorious tight ribbing that promises to expertly massage exploring appendages.
He's equipped with an 8-inch ass and a solid 7 inches in length and 5.5 inches in girth, ensuring that he's well poised to fulfil most fantasies.
Sensual and appealing to both men and women alike, this realistic sex doll continues to gather fans among the Lovehoney customer base and a curious addition to bucket lists among sex toy aficionados. Awesome!