Fleshlight Flight - Everything You Need to Know!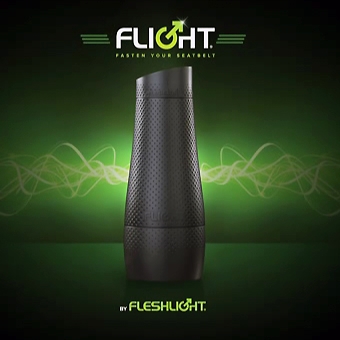 Are you ready to fly first class? Flight by Fleshlight is a discreet and fantastically textured masturbator with an aerodynamic exterior and incredibly bumpy canal to take you to new heights of pleasure. Prepare for extreme turbulence!
Compact and ergonomic, the Flight has been redesigned to have a sleeker and more modern appearance overall.
At £49.99 it's an affordable way to experience the legendary Fleshlight - the world's #1 selling male sex toy.
So how does the Fleshlight Flight compare to other Fleshlights? What exactly is the case like, how does the opening look, and what does the texture feel like? Read on for the answers to all these questions and more…
Lovehoney is the first shop in the UK to have theFleshlight Flight. Get yourFleshlight Flight today!
---
Fleshlight Flight Case & Opening
The original Fleshlight case was designed to be the same as a flashlight, but with a hefty size and recognisable shape, it's arguable that the Fleshlight began to lose its incognito credentials.
The newFleshlight Flight case is smaller, more discreet and easier to transport. With a textured case, our reviewers report that the Flight by Fleshlight gives improved handling by providing a better grip.
Fans of the discreet, non-anatomical Fleshlight Pure opening will love the Fleshlight Flight. Unlike the texture-free Pure opening though, the Fleshlight Flight's opening has an ergonomic whirlpool effect, meaning the entrance sucks you in, turbine-like, with complete ease.
When it comes to a Fleshlight though, it's less about the orifice (unless you're living out a fantasy with a particular Fleshlight Girl) and all about the texture…
---
Fleshlight Flight Texture
With normal Fleshlight sleeves being 10 inches in length, it can sometimes feel like you're not able to enjoy the entire length of the canal, but that's not the case with the Fleshlight Flight. With a 6.5 inch sleeve, it's long enough to satisfy every inch of most men.
But what does the texture of the Fleshlight Flight feel like? Over to our reviewer…
"The internal texture of the Flight has to be one of my favourites so far. Just inside the opening are some subtle bumps, followed by pronounced nodules, then the canal narrows to a tight point, which is followed by more nodules, and finally it finishes with a ribbed section.
What impressed me is that you can actually feel each section individually, especially if you take it slowly to start with. The noduled sections are really good at stimulating all around the head of the penis, especially down the sensitive frenulum. As you move between the two noduled areas you can feel the tight ring separating them, and a slight pop as you push past it. The way I would describe it is as an intimate massage for the whole penis; you really want to take long, slow, deep thrusts so that you feel each section, and get driven wild by the nodules tickling and teasing you all over. If you screw the cap down tightly then the individual sections become less obvious, but you get a deeper massaging feeling."
Read more Fleshlight Flight reviews
---
Fleshlight Flight Comparison Chart
Check out the chart below for an at-a-glance-comparison of the Fleshlight, Fleshlight Flight and Fleshlight Sex in a Can.
| | | | |
| --- | --- | --- | --- |
| | | | |
| | Fleshlight | Fleshlight Flight | Fleshlight Sex in a Can |
| Case style | Torch/flashlight | Aerodynamic | Drinks can |
| Texture | Various | Unique | Mini Lotus, Mini Swallow or Mini Forbidden |
| Opening style | Various | Cross between Stealth and Pure | Vagina, Mouth, Anus |
| Canal diameter | Various | 0.5 inches | 0.25 inches |
| Overall length | 10 inches | 8 inches | 8 inches |
| Internal length | 9 inches | 6.5 inches | 6.5 inches |
| Adjustable suction | Yes | Yes | Yes |
Can I use my Fleshlight sleeves in the Fleshlight Flight?
You can't use your standard Fleshlight sleeves in the Fleshlight Flight case, but you can use your Fleshlight Sex in a Can sleeves in your Fleshlight Flight and vice versa.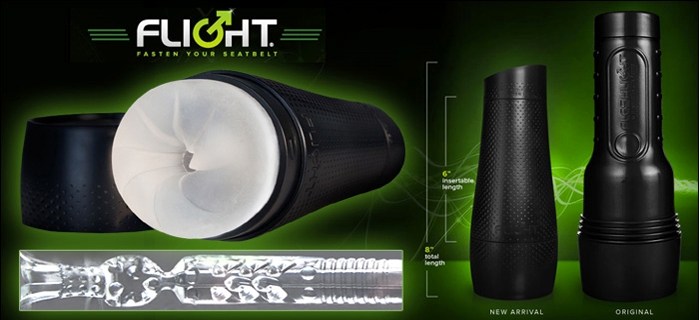 ---
You may also like: