What Do People Click On When They're Shopping For Sex Toys?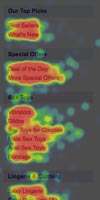 At Lovehoney we use technology called heatmapping to show us the most popular areas of pages. Heatmapping places little coloured areas across a page, corresponding to how frequently they are clicked. Using this information, we can see how the layout of a page or list can be improved.
So for example, a heatmap of the left-hand navigation on our homepage looks something like the picture on the left.
However, recently, I was running a heatmap of our Sexy Lingerie page, and noticed something odd. People clicking on the pictures were clicking in, let's say, rather specific areas of the image. It looked to me that the most popular areas of the image were either the boobs or crotch (see right).
Now, this could have just been a function of the type of lingerie being modelled - so I decided to test it!

To test it, I took some of our most popular underwear, and started heatmapping on the product page themselves. So when visitors click the image to see a bigger version, what are they most interested in, eh?
Is anyone noticing a theme? That one on the right's rather special.
Is it the same on other products, I wondered?
When I first ran the test on the Men's Underwear, there was, well, a similar pattern (do you think they know something we don't?).
So I thought I'd try a heatmap on a sex toy…




The Fleshlight Sex in a Can Lady Lager image has lots of things to click on, and we have a promotion currently going on this product so it's getting lots of pageviews.
You'd think it would be all-orifice, all the time. I even had a great "someone found the clitoris!" joke lined up. But you'd be wrong! It turns out; customers looking at Fleshlights are more interested in the canal's internal texture than the orifice.
Male Sex Toy designers, take note!