Dealers Go Hysterical For Antique Dildo on Four Rooms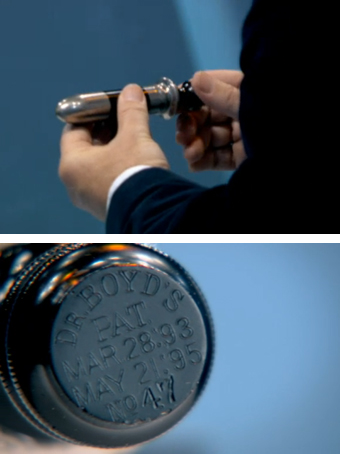 Channel 4's Four Rooms is not your usual antiques programme, and last night alongside the score from Psycho and the chair J K Rowling sat on while she wrote Harry Potter, was an antique dildo dating from 1893. It stumped the group at first, till antiques dealer Celia Sawyer explained, "it's a dildo… quite a small one."
Complete with a US patent and a hollow centre for hot or cold water, this steel dildo is the ancestor of modern metal dildos and glass dildos used for sensory play.
A hand-me-down from her grandmother, the seller had high hopes of selling the dildo-cum-heirloom for a whopping £4,000. But alas, her resolve was not as steely as her dildo, as Jeffrey Salmon's offer of £1,111.11 was accepted - and sealed with a kiss! (No tongues though.)
Unfortunately, the deal was done before Gordon Watson could get a look in. Perhaps an unlikely admirer of the dildo, he said, "every fibre of my being, every single nerve-ending is ready to do whatever it takes to get the piece." Despite being "not quite my thing" Gordon Watson would have offered £3000, as a client of his is Belgium's largest collector of dildos.
Now, that's someone we'd like to meet…