Eroticon 2012 - The Lovehoney Perspective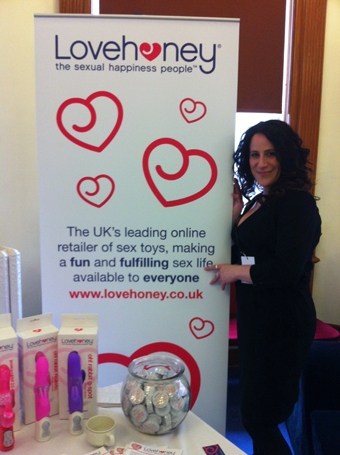 At 6:45am on Saturday, Alice, Gemma and I were bleary eyed and loading ourselves and several cases into a car for a trip to Bristol. We're not usually awake at that hour or working at the weekend but we made a special exception for Eroticon 2012, the first erotic conference aimed at writers, reviewers and sex bloggers.
Held in central Bristol, Eroticon 2012 was jam-packed with speakers and delegates from all walks of life, each with their own take on erotica and ideas about how to transform their passion into a career. Photographers, sex toy reviewers, erotic authors, performers, publishers and bloggers convened on both sides of the stage to impart knowledge and share experiences to help delegates hone their skills and spark their imagination in a series of thoughtful seminars.

As sponsors and dedicated sex toy enthusiasts, we brought along a selection of toys and treats to share with delegates and spent our time chatting to attendees, allowing them to get hands-on with some of our favourite products. Unfortunately this meant that we missed almost all of the talks and demonstrations but we had a great time mingling with delegates and speakers and we definitely enjoyed electrocuting them all with the Neon Wand. Bzzt!
Zoe Margolis, author of Girl With A One Track Mind
We brought along two tables filled with fun including Rock Box, the Bedroom Kandi Music-Activated Vibrator, Minna Ola, Sqweel and of course… Baconlube. Our table was rarely quiet and by the end of the day the batteries were running low, the Sliquid lubes were half consumed and our contact book was bulging full with email addresses of future reviewers. We really loved the friendly, vibrant atmosphere and the open attitude everyone had with us and one another. Thank you to everyone who took the time to chat with us…
We were also very privileged to spend time talking to authors Zoe Margolis and KD Grace who are two of the most charming, entertaining and saucy women we've met, even if Zoe didn't share my love of the Neon Wand (you'll come around). There was not one attendee who displayed ego or elitism throughout the entire day. Everyone was on a level and looking to help each other, whether they'd reached a readership of millions or had yet to pen their first erotic words. Events rarely manage to forge a rapport like that between attendees and speakers and it was a real credit to everyone involved.
Even though we weren't able to join in with most of the fun directly, we enjoyed every minute of the event and we were especially pleased with how much effort the attendees made to chat and play with us. When we eventually packed up we were able to join London Faerie's whipping demonstration which left us all feeling re-energised (and Alice's cheeks quite flushed). Our day finished off with Lovehoney being presented with an award from Hazel Cushion from Xcite Books for Online Retailer of the Year (BOOK! - sorry, in-joke) and a rather saucy burlesque performance from Lady Cave.
There's already talk of Eroticon 2013 and we're expecting bigger and better things, if such a thing is possible. It's no small feat to hold an event like Eroticon and it was executed brilliantly throughout. Keep an eye on Ruby Kiddell's Blog for announcements. We'll see you next year!