Five Of The Worst Sexy Christmas Gifts... What Not To Buy
We're well into advent now so hopefully your sexy Christmas shopping is going to plan.
If you're still stuck for ideas, then you're going to love this festive blog.
In an unconventional twisty turn, this festive gift guide is designed to show you how NOT to shop for your partner this Christmas.
If you've read the Lovehoney Sexy Christmas Gift Guides you'll be sorted, but you'd be surprised at just how wrong some people get it…
---
1. Semen Cookbook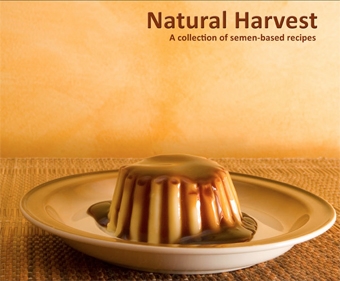 If your partner is the adventurous type who likes to try out new recipes in the kitchen, you might be drawn to a culinary gift.
First and foremost unless your cookery book is by a sexy celebrity chef or features some aphrodisiac recipes, it's probably best to avoid buying them a cookbook for Crimbo. Inferring that your partner is nothing more than your kitchen hand isn't likely to go down smoothly, especially if said partner is cooking your Christmas dinner.
You can take the food-sex combo too far the other way if you're not careful and this delightful cookery book is a prime example. Natural Harvest is filled with recipes containing semen, literally putting the spunk back into your culinary creativity.
What to buy instead
An Erotic Book, like Tantric Sex by Kavida Rei.
---
2. Shameful Mangerie
The festive season encourages us to put the effort in to look and feel our best, hence why lingerie and clothing are such big sellers at Christmas. You might get an exciting hand-knitted jumper with alpacas on it from your Nana, but giving one to your partner isn't going to invoke quite the same reaction as 'Ahhhh!' swiftly becomes 'WTF?'
When you buy your partner something to wear, it's also partly for you. You want them to like it so they'll wear it and you want to like it so you'll enjoy looking at it. It therefore baffles me that anyone would buy their partner one of these novelty candy cane pouches as a present.
I'm not opposed to men's novelty underwear but this really takes the biscuit. Far from raising a little giggle or a saucy cocking of the eyebrow, this giant candy cane is likely to leave you laughing your partner out of the bedroom.
What to buy instead
Actually Sexy Men's Underwear, like the range of PPU Underwear for Men.
---
3. Colour Me Unimpressed
Crafty lovers may be appreciative of a Christmas gift that allows their creativity to flow. A gift voucher to a craft shop is a little unimaginative at the best of times and also requires your partner to brave the cold and the post-Christmas scrabbling to make the most of their gift.
Without being expected to take a mental inventory of your partner's various tins and boxes filled with arts and crafts supplies you might find it tricky to pick the right findings to enhance their collection.
What you shouldn't do is get lazy and buy one of these monstrosities. The Big Coloring Book of Vaginas is packed full of anatomical line illustrations showcasing vaginas of every persuasion ready for you to colour in. Your next task is to find a crayon set with enough varied flesh tones to make using the damn thing viable.
What to buy instead
Get crafty with Erotic Body Paint like Chocolate and Strawberry Lovers Body Pen Set.
---
4. Erotic Art
Erotic art is a bit of a materialistic weakness of mine and it will definitely always have a place in my home. If your partner is similarly inclined then a beautiful print, painting or sculpture is a festive treat you can both enjoy.
There are generally two kinds of erotic art - the gorgeous and the bloody awful. This canvas has created its very own third kind - the really confusing. If you hadn't guessed from the photo, this delightful wall hanging is in fact a cross section of penile erectile tissue, or corpus spongiosum if you're a doctor or married to one.
You may think you're being smart by having this obscure box canvas adorning your lounge wall as no one is likely to know what it is. But have you considered the alternative suggestions as to what it might be? A selection of bacterium? A pop art sea sponge? An extreme close-up of a diseased tongue?
Don't even get me started on the colour scheme. Orange and purple together? Unless you live in Wonka's factory, this won't go with anything.
What to buy instead
A beautiful glass dildo like the Icicles No 24 Tentacle Glass Dildo
---
5. Grope on a Rope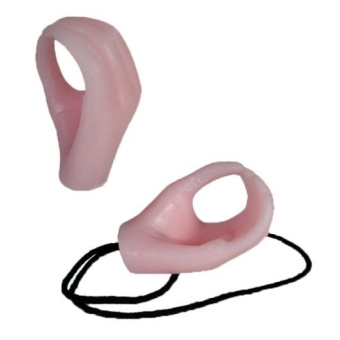 There are two things that make shower time more fun, singing badly and a watery orgasm. 9-5 work patterns don't lend themselves to erotic shower encounters in the AM, so solo shower play is a great practical compromise. Gifting your lover a sexy shower pal will help to make the dreaded post-season return to work a little easier, but make sure you choose your toy wisely.
This handjob soap has the right idea but the wrong execution. Firstly, soap is rock hard. Unless your partner has a fetish for shagging slippery rocks this isn't likely to do much for him. Secondly, the one-size-fits-some diameter is going to leave many men wishing for a tighter grip or a bigger hand. This soap is about as discreet as having a drilldo at your bedside. Soap can't be dried off and stored away very easily, so you'd have to leave it hanging up in the shower while Granny has her morning scrub down before the Boxing Day Buffet. Nice!
What to buy instead
A male masturbator like the new and awesome Tenga 3D Strokers.
---
The gifts featured in this guide might not be winning any awards for their sex appeal, but at least they still have their own kitsch appeal. We asked the Lovehoney Community what their worst Christmas presents were and uncovered some shocking crimes against gift giving:
I once received a tacky, cheaply framed novelty newspaper clipping which pretended I was Britain's next Prime Minister from my sister.
My husband wrapped up some fluff from the tumble dryer for me one year to teach me a lesson for always feeling my presents!
Box of Family Circle biscuits. Could have at least gone for something chocolatey!!
Scrunched up wrapping paper wrapped up in wrapping paper! Joke from my bro!
Anti-freeze for my car. Think it must of been a last minute pressie from the garage.
To avoid bad Christmas gift buying and other faux pas, be sure to check out our Sexy Christmas Gift Guides for expert advice.