The Ultimate Rabbit For Christmas - Lovehoney Oh! Rabbit
Introducing the brand new silicone Lovehoney Oh! Rabbits. With 3 designs including Lovehoney Oh! Rabbit Slimline Vibrator for beginners, Realistic for fans of a lifelike feel and a G-spot vibrator with a slightly curved tip, these sculpted, completely waterproof rabbit vibes have been made to cater for individual needs and feature exciting rotating and vibrating functions.
As well as being completely waterproof, each Oh! Rabbit has been made with soft, high-quality silicone and has a quiet-yet-powerful motor to deliver intense sensations with hardly any noise distubrance.
Read on to discover more about Lovehoney's Oh! Rabbit vibrators…
Lovehoney Oh! Rabbits are powered by an LED light-up control panel on the base. The ergonomic shape makes the toys easy to tilt, move and twist to your exact needs. The flexible silicone body disguises the discreet motors inside of each Oh! Rabbit, promising maximum power with minimum noise. Soft and slightly flexible, you can also angle the rabbit ears to suit your body, and gently bend the shaft to work with your form.
The Lovehoney Oh! Rabbit Slimline is great for anyone new to rabbit vibrators, or for those who prefer slender sex toys. Crafted with a smaller than average shaft, this mini rabbit has amazing functions in a smaller -than-average package. It has been made with the same high-quality silicone as the other rabbits and the extra quiet motor delivers equally exciting clitoral stimulation and rotating sensations.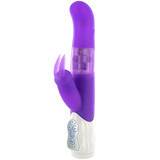 Curved at the tip to target your internal erogenous zones, the Lovehoney Oh! Rabbit G-Spot Vibrator provides dual G-spot and clitoral stimulation. Slightly flexible along the shaft, you can angle the G-spot vibrator to suit your every whim. Enjoy double the sensations by using the rabbit ears alongside the rotating shaft for dual pleasure.
Combining a lifelike feel with a sensational flourish of speeds, patterns and functions, the Lovehoney Oh! Rabbit Realistic is a vibrator that combines the pleasure of real sensations with a few added extras. Like the other two rabbits, the realistic has been made from soft silicone and can be controlled by a light-up LED display on the base.
Each Oh! Rabbit comes presented in Lovehoney's own tasteful packaging, making it an ideal gift for yourself, or a lover.