Top 10 Sexy Christmas Gifts for Couples
If you want to add some extra thrills to your relationship, why not choose a gift you can share this Christmas? Our top couple's toys are great for playing with on Christmas day and beyond. All of our top couple's toys can be gift wrapped too, to make that present extra special.
Read on to discover our top toys for Christmas 2011 or browse Lovehoney's Christmas Gift Guide 2011 and delight that special person with a perfect gift.
See Giftwrap | See more Sexy Christmas Gifts for Couples
Perfect for discreet, sexy play both in and outside of the bedroom, the Dream Egg is a vibrating love egg powered by an intuitive remote control. Hand over control and let your partner massage, tease and delight you with the powerful, yet very quiet vibrating motor which offers 3 speeds and 7 patterns. A fantastic toy to get couples in the mood and to create a playful atmosphere.
Powerful and cunningly designed, this twin ring is worn during sex to bring you double the pleasure and keep him firmer for longer-lasting erections. The supple silicone rings are easy to put on and the clever design keeps the powerful bullet vibrator in the perfect position. Durable and reusable, this cock ring gives you both a mind-blowing orgasm every time.
Sensual and seductive Tease Me products are made from soft, quality satin and leather. In rich purples and blacks, this pocket-friendly luxury range includes a sleek blindfold, soft restraints and sensual spanking tools - perfect for couples who want to spice up their lovemaking.
This kit gives you everything need to make an inch-perfect replica of your partner's penis in minutes - and turn it into a sex toy! Safe, easy and fun to use (especially together), the kit is non toxic and 100% biodegradable.
This BASIC Sex Toys Bumper Fun Pack is riding alongside the elite when it comes to pleasure and variation: with cock rings galore a bullet vibrator and finger vibrator too! Your sex life suddenly got extremely exciting and to keep it this way, all the toys are waterproof for sexy shower time.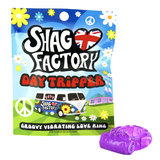 Playful and pocket-friendly, this great little ring has a powerful motor and delectable clitoral tickers to take you all the way there… and back again. A great choice if you're just starting out, or great for stuffing in a stocking or hand-made cracker.
The perfect sexy lingerie to unwrap on Christmas morning. Tie the satin-blend bow around your partner and, with a gentle tug, reveal your bare-skinned sexy Xmas outfit. A reusable present that you can bring out for anniversaries, birthdays and Valentines too.
Essentially, this is the ideal introduction to bedroom tie & tease play. The kit includes a blindfold sash and four ankle and wrist cuffs - they're soft and the Velcro fastenings are easy to adjust. It's a perfect way for you to experience bondage for the first time - it's a completely safe and non-threatening kit, ideal for naughty weekends away.
Have a hot affair with your partner this yuletide. Dim the Christmas lights, swap the jingles for some sultry music and get ready to play one of the hottest board games ever. Experience new, exciting and occasionally hilarious challenges with the throw of a dice! Beats a game of charades with the family.
The ultimate couple's toy, this unique clitoral and G-spot vibrator can be used alone or worn while you make love to deliver thrilling sensations to you both. The two vibrating motors combine to produce a unique throbbing action that syncs with your body - unique and utterly orgasmic.
---
You may also like: