Got Post-Rabbit Blues? Here's What To Do
Has it really been 13 years since Sex and the City introduced the world to the rabbit vibrator?
Since the airing of the now-famous episode, 'The Turtle and the Hare' (Season 1, Episode 9), millions of women have discovered exactly why Charlotte favoured staying in with her apartment with this vibrator. For years, those tingling ears and squirming shaft have left satisfied women across the world eager to have a 'quiet night in' just like Charlotte.
Now though, 13 years have come and gone and a lot has changed in the world of sex toys. The market has exploded with new products that are designed to give you a satisfying orgasm - and most of them aren't rabbits.
So, are you ready to move on from your faithful rabbit? With an ever-increasing number of products on the market, you'll soon find out that although a rabbit vibrator's good, there could be something that's even better…
---
Loved the tingling ears? Try this:
The Lovehoney Sqweel (£39.99) is an incredible clitoral stimulator that allows you to experience the pleasure of realistic oral sex. Instead of having the localised vibration that rabbit ears give, the Sqweel provides luscious licks wherever you want them.
If you find yourself missing the dual stimulation of a rabbit, the Lovehoney Sqweevee Vibrator Case (£4.00) comes to the rescue - you can attach your favourite dildo or vibrator to the Sqweel, enhancing the pleasurable sensations further.
If it's sheer power you want, check out our range of clitoral vibrators that will give the same level of intensity as a rabbit, but without the attached shaft.
---
Couldn't get enough of the shapely squirming shaft? Try this:
If it was the semi-realistic shape of the rabbit that pushed your buttons you can try out our range of realistic dildo vibrators. Although they're completely realistic in shape and size they come in a range of pretty pinks and purples if you're not quite ready to move on to a totally realistic sex toy.
One of the best in the range is the large is the Pink Clitoral Jelly Vibrator 8 Inch (£16.99) which has all of the benefits of a rabbit vibrator but without the rabbit ears. Instead, it features extra nodules on the base for clitoral stimulation. Its extra girth and long shaft make it a big winner too!
---
Enjoyed using a rabbit vibe with your partner? Try these:
One thing that's been a common problem with rabbit vibrator over the years is that they can be quite threatening; the idea of, 'how can I compete with that?' can be a big worry for those who, as a partner, feel that they couldn't match up to the pleasure-power of the rabbit. So, if you've been avoiding using sex toys with your partner because your rabbit has seemed too threatening, think again. There are couples sex toys that will give pleasure to both of you.
The We-Vibe II (£64.99) is designed to hit your pleasure points in the same way as a rabbit vibrator, but be used in a completely different way. It can be used whilst having penetrative sex, so there's no for your need for them to feel threatened or replaced by a toy.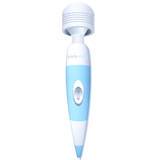 The Bodywand (£59.99) is great sex toy that's one-step up from rabbit vibrators - it isn't a vibrator at all, it's a power massager. This is a perfect couple's sex toy because it can be used for sensual massage as well as clitoral stimulation; a lot of men find it extremely pleasurable as it can stimulate their pleasurable nerve endings too, not just the clitoris. As well as being perfect for erotic pleasure, the Bodywand can create a sense of intimacy when used for massage. Not only that, but it is UK mains powered, and is made from high-quality materials designed to last for years.
---
It's been over a decade since the benefits of the rabbit came to light and our needs have changed. Sexuality, female sexuality in particular, has become something to be explored freely, whether on your own or as part of a couple.
I am by no means slating the rabbit vibrator. The Jessica Rabbit 2.0 Rabbit Vibrator (£34.99) is one of Lovehoney's best-selling sex toys, and with over 300 glowing reviews this doesn't look set to change. It promises intense satisfaction, multiple-levels of stimulation and amazing orgasms. In fact, it could be argued that without the Sex and the City Rabbit Pearl Vibrator (£35.00) we would never have had the sheer variety of toys available that we have today. If that's the case then it seems that we have a lot to thank the rabbit vibrator, (and Sex in the City) for.
---
Featured in this blog post: