A Gorgeous Geisha
I've been a fan of sex toys and Japanese animation for years and years.
Anything that blends these two things together in an anime/hentai-style fusion has me squealing and bouncing like a purple-haired, saucer-eyed girl in a sailor costume.
This week's Awesome Sex Toy comes from Fun Zone in the form of the Ultra Zone Geisha Male Masturbators.
Fun Zone have really upped the stakes in male masturbators by creating these 'ultimate aficionado' kits that contains a bit of kit I didn't even know existed…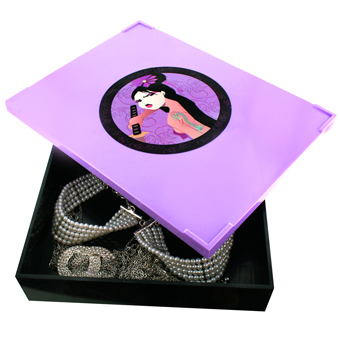 First of all, the packaging is incredible. A gorgeous dual-tiered plastic box decorated with one of eight anime geisha in an alluring pose. Ladies, if your boyfriend or husband is lucky enough to own one of these, I should imagine you've already half inched the case to keep your sparkly things in.
Inside your geisha's box you'll find an interesting collection of articles alongside a very Japanese-style stroker. A multispeed bullet vibrator, a miniature bottle of water-based lube and a weird stick thing with both a power adaptor and a USB plug and three AAA batteries.
The bullet is an impressive piece of equipment that I'd rather like to buy, but unfortunately it's not available separately. It has 6 patterns and 8 speeds to provide just the right amount of animation and sensation.
Onto the weird stick thing. There was only one way to figure it out and that was to stick it into the USB port. There are no obvious buttons to bring it to life, so I was hopeful that it would explain itself and it sure did. Within the space of 5 minutes, the wand was noticeably warmer. The thoughtful folks at Fun Zone have included a magical heating wand with each of the Geisha masturbators, allowing you to thoroughly warm your Geisha without messing about with hot water. Ingenious!
Each of the masturbators has a different colour, shape and style but all of them are designed to be feel impressively like vaginal sex. Beyond the beautiful exteriors of each Geisha is an incredible canal detailed with natural feeling ridges, indentations and even a G-spot. Now that's attention to detail.
A realistic male masturbator with a magic heating wand, beautiful case, a vibrator with 6 patterns and 8 speeds and a bottle of lube? I think awesome just about covers it.