Ten Sex Toys That Will Change Your Life
Sometimes the sex toys that work best for you are not the ones you expect to do the job.
Often, you'll add something to your basket on a whim and later discover it's the most incredible thing to have happened in your pants for years.
Packed with Lovehoney customers and sex toy aficionados, we asked the Lovehoney Forum, "Which product has MOST improved your sex life?"
The results were surprising - there wasn't a rabbit in sight!
Read on to find out which products turned these people's sex lives around and could do the same for you.
Why not join in and tell us the sex toy that changed your life? Just leave a comment below…
---
"This cheap little vibrator was purchased as an extra along with a more expensive rabbit as my very first sex toys and thank goodness it was.
After an absolutely horrible time with the rabbit which would have put me off sex toys for life, this powerful little vibe saved the day and gave me my first pleasurable toy experience and the desire to try more toys."
---
"When we bought it, there was only a handful of reviews, so wasn't sure what to expect. We found Monogamy to not only result in some very sexy sessions, but also lots of laughter and sensual moments too, so it's a good all rounder for us.
Depending on our mood, we can choose to play with some 'gentle' extras or some seriously naughty ones and because of the endless combinations of outcomes, it never gets boring and has been a good investment. You can totally personalise it to your kinks and level of intimacy! It also encouraged my shy Hubby to open up and talk!"
---
"It was a difficult decision, as I love my vibes - especially the Lelo Mia. I love my glass dildo. I love my bondage products.
But the Durex Play O Gel gives me the most amazing sensation that I can't replicate on my own, and can be combined with every other type of sex play to make everything better. It's incredible!"
---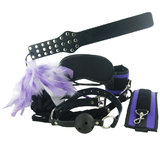 "We haven't had this very long but I think it's been invaluable for us. We always knew we were fairly into bondage and the like but this really gave us the chance to start experimenting properly. The flogger has become a particular favourite of mine, it's just so intense to be hit whilst blindfolded. I think I particularly liked that it was so versatile - the rope could be used for 'set dressing' (I tied it all over the bed the other day and crawled under it) as much as for just tying a person up.
It was just such a good starter kit and has given us a really positive experience that led us to exploring further."
---
"I bought them when I was with my last partner. He didn't like toys that vibrate but he was more than happy for us to use these in the bedroom. They really helped to pave the way for bringing more toys into the bedroom.
They have so many uses for couple play and for some self pleasure. Great for temperature play, 1 hot and 1 cold! Massage, vaginal, anal, DP. They are so pretty, a great price, easy to clean. Definetly up there on my list of top toys!"
---
"It's helped me find my G-spot and gives me the strongest orgsms I've ever had. My fingers are too short to reach but this toy hits the spot every time so it adds a dimension to solo play that I couldn't acheive if I didn't have it.
It's great for clitoral stimulation too and the massive range of strengths and patterns gives good variety, though I use it mainly as a dildo."
---
"I have to say they blow me away every time. I was only just getting into anal play and these have been a "go-to" toy every time when I have been pleasuring myself and in the bedroom with my OH.
They are guaranteed to give me a mind blowing orgasm - the last time I shouted so loud for so long my OH was taken aback a bit by it!"
---
"An amazing little firecracker that is extremely versatile. It's the one I always reach for that I know will start me off. I love how it can be used on any part of the body and the variable speeds of the powerful vibrations are wonderful. At £6.99, this complete and utter bargain is The One and Only.
It was the first toy I used with my partner and it resulted in one heck of an orgasm or two. Why overcomplicate to any other expensive fiddly toy when this is more or less perfection in an (love) egg? Guaranteed to make the partner and myself incredibly sexually happy."
---
"It has drastically improved my sex life. Gives me a helping hand when I am feeling horny but nature doesn't want to play. A good bottle of lube is a staple in any toy box, whatever your age or experience with toys. I always take a small bottle (and a toy) wherever I go, you never know when you will need it.
My all time favourite lubricant is Lelo. They are expensive but second to none. It feels so natural it's unbelieveable and it lasts ages too. The larger 150ml bottle lasted me over 6 months of almost daily use."
---
"I used to struggle a lot with orgasm and well, with hour or more long sessions I was eating through batteries and I was worried about the costs and it getting too weak as I used the battery up.
Having a recheargable vibe did change a lot, at least for me. I stopped worrying too much and started to get more relaxed and now… I just orgasm far more easily."
Why not join in and tell us the sex toy that changed your life? Just leave a comment below…