Cheap Holiday Essentials from Lovehoney
Whether you've been lucky enough to snap up one of the amazing cheap holidays advertised everywhere you turn this summer or you're having a romantic staycation, how does the thought of making it extra special, indulgent and even slightly naughty appeal to you?
Lovehoney has got a fantastic selection of special offers on travel essentials throughout August, ensuring your trip will be one to remember for all the right reasons.
Read on to discover great offers on discreet travel vibrators, assorted lube packs, plus many more offers on sex toys, sex toy essentials and sexy lingerie.
A Romantic Weekend Away
If your partner has been dropping hints about a romantic getaway for two, you could add to the excitement and anticipation of the trip by throwing a Lelo luxury vibrator into the equation.
Choose from a selection of top-rated Lelo vibrators for him, for her and for couples and enhance your intimate play with a free bottle of Lelo's moisturising lubricant worth £7.99.
Choose a luxury Lelo vibrator and get free Lelo Personal Moisturizing Lube worth £7.99
Indulge in some glamorous and sexy lingerie from the award-winning Livia Corsetti range and add some discreet yet powerful vibrations to your purchase with the Lovehoney Silencer Vibe… for free!
Perfect for fun and pleasure in the surroundings of paper-thin hotel walls and its yours when you spend just £30 on Livia Corsetti lingerie.
Get a free Lovehoney Silencer worth £14.99 when you spend £30 on Livia Corsetti lingerie
---
A Far-Flung Destination
Don't let the luggage restrictions associated with flying get in the way of your sexual pleasure once you reach your holiday destination. The Tracey Cox Supersex 3 Speed Vibrator Secretvibe Bullet comes pre-packed in its own stylish case and is small enough to go wherever you go.
Boasting 3 speeds and suitable for solo or couple play, it can be yours when you spend just £35 on Tracey Cox products.
Free £14.99 Secretvibe Bullet when you spend £35 on Tracey Cox products
Keeping liquids below 50ml when flying often means that you have to leave some of your favourite products at home for the holiday period. Travel-size ID Glide lubes are all under 20ml and come in assorted packs to keep your slippery pleasure full of variety for the duration of your vacation.
Choose 3 for the price of 2 and combine with your favourite travel-friendly toy for even more fun in the sun!
Get 3 for the price of 2 on selected travel-size ID lubes
---
Sun, sea, sand and…
Heading to a destination full of sand, sea, plenty of sangria and single boys and girls? Why not take inspiration from our beloved TOWIE girls and dazzle your way through the holiday with a bit of cheeky Vajazzling?
Adorn your body with eye-catching diamanté jewels in a variety of fun and sexy designs by choosing 3 Vajazzle body jewellery pieces for just £10!
Choose 3 Vajazzle body jewellery pieces for only £10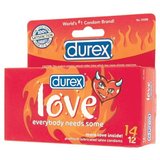 Safe sex and pleasure should always go hand in hand and if you can add in a bit of glow in the dark fun then even better! Buy this 14 pack of Durex Love condoms to allow for plenty of sun-soaked passion and double the pleasure for less than half price with a Shag Factory Go Glow Vibrating Love Ring for only £3!
Keep the love alive with this shagadelic duo - keeping him harder for longer, delivering delicious stimulation to her and keeping it safe and pleasurable for both of you.
Get a Shag Factory Go Glow Ring for only £3 with Durex Love Condoms
---
Featured in this blog post: