Did You Miss These Bondage Bargains in the Lovehoney Summer Sale?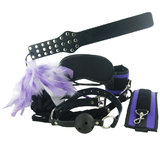 Bondage gear has been flying out the door during the Lovehoney Summer Sex Toy Sale, but there are some quality bondage items at bargain prices that you may have missed. See all our cheap bondage gear here, or read on for my pick of the crop…
Absolutely stunning quality Leatherbeaten Dragon Silk Wrist Restraints with over 50% off the RRP. With two 5 star reviews, these exquisite cuffs are ideal for the most refined boudoir-cum-dungeon.
This imposing flogger comes highly recommended from twitter user @xAraneaex who says "I have it! Awesome piece of equipment, Great for keeping naughty little boys in line :)". Available in black or red, this impressive piece of kit is an essential accessory for the most demanding of dominants.
You know how you can find a bargain on ebay because there's a typo in the name? There's a similar principle at work here. This product has a poor review, but I just couldn't believe Bondage Boutique would put a foot wrong. Always one to step into the breach for you, I tried it on at my desk this morning and wile there's a glimmer of light if you tilt your head back, the blindfold isn't anywhere near as flawed as the review suggests.
Why not take advantage of this mistake and get this great quality blindfold for just a fiver in the sale?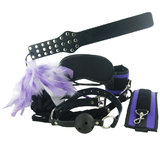 Finally - and for TODAY ONLY - you can get £67.93 worth of Bondage Boutique goodies for just £25! The Bondage Boutique Tie & Tease Bundle is today's Deal of the Day so if you're looking for a bondage bargain, be sure to add this bundle to your basket.
---
Featured in this blog post: