How to Use a Bullet Vibrator
Bullet vibrators are extremely simple to use, they're discreet and easy to clean - not to mention being cheaper than most other toys. These small vibrators can be stored or taken anywhere without anyone realising.
These bullet vibrators are Lovehoney customer favourites:
Don't let their petite size fool you though, they're renowned for achieving some of the most intense climactic experiences around. In the case of bullet vibrators it's true that the best things come in small packages!
Product featured: Tracey Cox Supersex Bullet Vibrator
How to Use a Bullet Vibrator
Bullet vibrators are famous for helping you achieve quick (and mind-blowing) orgasms, but the fun doesn't stop there. If you're unsure about how to use a bullet vibrator properly the answer is that there is simply no right or wrong way - you need to experiment and find what feels best for you.
The first time you use a bullet vibrator, like the best-selling Fifty Shades of Grey Vibrating Bullet you're likely to climax quickly. Just experiment with where you place the toy on your body to prolong the experience - see what feels good and don't be afraid to try new things.
If you move away from clitoral stimulation and let the bullet roam around your body you will discover entirely new regions of pleasure. Try tracing the toy up your inner thigh or around your nipples, anus or perineum for really intense sensations. By venturing away from the toy's usual uses you'll soon learn how to use your bullet vibrator in a way that works for you.
One thing about bullet vibrators that people often forget is that you're not limited to using just the tip - hold it horizontally and your toy will create widespread pleasure.
A really great addition when using your bullet vibrator is lubricant, or an orgasm booster like the Lovehoney Oh! Cherry Orgasm Balm. A few squirts of some really sensual lubrication or stimulating creams will make all of the difference when using a bullet, especially on the clitoris. The added sensation of softness could be the thing to send you over the edge.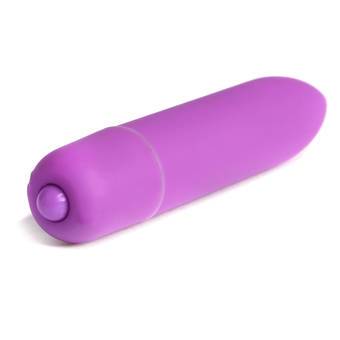 If you're wanting to experiment with different speeds and functions there are bullet vibrators that will be able to satisfy your needs. The Lovehoney 10 Speed Dream Bullet is a popular toy which utilises multi-speeds and different functions to help you achieve amazing orgasms and intense climactic experiences.
If you enjoy using sex toys in the shower or bath then there are a whole host of waterproof bullets that will fulfil your desires perfectly.
Bullet vibrators can also be used to enhance the effects of other toys. Some butt plugs have the benefit of a small hole at their base for a bullet vibrator to be inserted. If you're looking to experiment with anal play, a bullet vibrator can be an extremely pleasurable addition to a butt plug by creating deep vibrating sensations that will leave you quivering with pleasure.
Bullets aren't just used by women for masturbation - they're also great additions to sex and foreplay with your partner. You can use the vibrations to create some seriously intense feelings that will have you both feeling incredible. During foreplay they're great to use as an addition to oral sex or instead of hands. It's a great joint purchase since you can both benefit from the intense vibrations these little bullets can provide.
These wonderful little toys are also brilliant to use whilst having sex. The nature of the bullet vibrator means that you can use your hands to control where and how it moves - so you can get what you want, exactly when you need it. The vibrations are great for both you and your partner, and if you decided to stimulate the clitoris whilst being penetrated you can go for the elusive, powerful blended orgasm.
---
Need more help with bullet vibrators?
You can Contact Customer Care, who will be able to help you find the perfect bullet vibrator. You can email, telephone or live chat to an experienced advisor from 24 hours a day, 7 days a week.
The other great place to look for people's advice on vibrators is on the Lovehoney Forum, where our community is on hand to give their opinions and tips.
Contact Lovehoney Customer Care | Visit The Lovehoney Forum
---
Users found this post when searching for:
how to use a bullet vibrator

using a vibrating bullet for my vagina

what is a bullet vibes

why should I use a bullet vibrator

how does a bullet vibe work

best way to use a bullet on yourself