Best Sex Toy Reviews of April 2011
To reward the writers of sex toy reviews, we give a £100 shopping spree to the person who writes the Lovehoney Review of the Month. We also choose a selection of highly commended reviews and reward them each with 2000 Oh! Points to spend as they wish - or save up for something special.
Swooping in and winning the title of Review of the Month was Lovehoney Forum regular Avrielle_Aniko. We loved how she explained why she was getting a stroker for her partner, and the way she combined this information with a practical commentary on the pros and cons of the product.
"My partner and I have been together for over 4 years now and while he is aware that I hold an interest in sex toys and, in particular, the Lovehoney website, he has never been very keen on the idea. He is a little old-fashioned and thinks of sex toys as something that should be hidden away and are embarrassing.

As my sex toy collection grew, his view began to clash with my lifestyle. I wanted him to understand that sex toys are nothing to be ashamed of and that they are supposed to fun, hence the name 'sex toy' rather than 'sex tool'.

I came across these TENGA Eggs and thought them to be a fabulous idea to try and turn my man's mind around when the right opportunity arose. I had a look at the selection of styles and decided that the Wavy Egg would be the best beginners choice."
Read the full review to find out how the TENGA Egg Wavy went down.
Highly commended sex toy reviews in April - each earning 2000 Oh! Points
Trialling the Blue Line Microfiber Revealing Pouch was the appropriately named Mr Hangcock.
Extolling the virtues of a pouch in a witty yet very convincing way, we almost found ourselves unable to resist taking one home. Almost! Read the review.
Giving the Cock and Ball Triple Rings Set a rung for their money was Headmaster.
"If you saw an advert proclaiming "Better sex for five pounds", you'd probably think it was selling snake oil - however, in this case, it really is true!" Read the review.
The Fleshlight Sex in a Can Vampire Succu Dry was the very first sex toy for fun_for_senses - and what a toy to go for!
"I think [the vampire mouth] helped me see the toy as a masturbator and not as a substitute for intercourse." Read the review.
The Toy Joy Strapless Strap On Double Ended Dildo get the seal of approval from Julie_L, and her review of this fantastic couple's toy gets our seal of approval.
"They give intimacy to our lovemaking - being inside each other, our bodies together, sharing our orgasms." Read the review.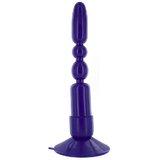 Proving that a negative review is as helpful as a glowing on was LovingHer who recounted their experience with the Dynamic Dup Vibrating Anal Wand with Suction Cup.
As a result of this review, we've decided it would be best to discontinue the line. Read the review.
Featured in this blog post: