Six of the Strangest Sex Dolls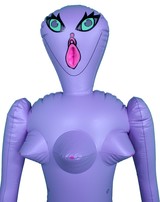 From sophisticated Japanese sex dolls to the hen-night-favourite blow-up doll, the world of the humanoid sex simulator is filled with a rich variety of different skill sets.
We know that many sex dolls have three holes, that others have two and that some vibrate but did you know that some dolls have a whole lot more going for them than, well, holes? Here's our pick of six of the strangest sex dolls we sell.
1. "We Cum In Peace, But Also With Our Face"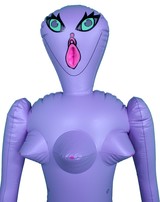 We are all different, but some are more different than others… just like this sex doll. Shall I compare thee to a realistic sex doll? No, not you, Area 51 Alien Sex Doll. For one, this doll has a vagina for a mouth. Last time I checked in the mirror that wasn't the usual for my species, but then she is an alien. I admit to being a bit jealous actually, I bet she's much better at deep throat than I am.
Area 51, you also have THREE BOOBS! I don't know how else to phrase this, as the only time I've heard of anything having 'THREE BOOBS!' is when I've heard male friends chat about Total Recall and it's always exclaimed. So there you have it THREE BOOBS! EXCITING! DIFFERENT! WOW! ONE EXTRA! (etc). It's also worth mentioning that Area 51 has fingerable ears and purple skin too. Basically, if you were the weird kid at your school that got caught in a compromising position with a jam sandwich, this is for you. If you weren't, you'll probably want one to remind the aforementioned person that you haven't forgotten about their weird sexual quirks, in the friendliest of ways.
2. A Tongue Like a Washing Machine on Spin Cycle
The charms of Chasey Lain are well reputed. A celebrity porn star elevated to the status of a sex goddess by virtue of her enthusiastic performances. She's even been immortalised in song, but did you know that she also has her own inflatable sex doll? And just like Chasey, there is nothing regular about the skills of this ultra-realistic doll. The Chasey Lain Sex Doll has a unique mouth that is fitted with a rotating and vibrating motor (just like those found in rabbit vibrators) which causes her fleshy tongue to circle and buzz around whatever you pop in her gob. Just make sure you don't get long locks caught up in there, imagine explaining THAT to your hairdresser.

3. She's Got Soft, Strokeable, Furry Skin
Imagine what it would be like if your childhood soft toy one day transformed itself into a beautiful woman and you're somewhere toward picturing a Teddy Babe. The original loveable, huggable and do-able doll that is designed to be a warmer, softer sexual partner. Made entirely from a plush, soft-touch fabric and stuffed with oodles of warm, squishy fibres - this doll really does cuddle you back. From her gargantuan breasts and the nipples on the end to her teeny-tiny feet, she's a furry female friend.
Despite their cuddly virtues, Teddy Babes are still functioning sex dolls. They have just one 'special place' and it's called Pussy Velour and it's made of the same soft, furry fabric. If stroking the love sword with a sheath of fur is a little much for you, the pussy velour can be replaced with a more realistic masturbator. Just don't try to ram a whole Fleshlight unit inside your dear dolly.
4. "Bend Me, Shape Me, Screw Me"
Jenna Jameson is well known for her bendy virtues, so it's nice to see that her doll doesn't let the side down. The Jenna Jameson Extreme Realistic Sex Doll features pivoted arms that allow her to support herself as you pop her trunk. You can also tie her into bondage positions, make her do the YMCA or pop her upper half through a limo sunroof as you cruise the streets of LA with the stereo on full blast. These joints are more sophisticated than you'd think. Not only do they allow a full rotation on each arm, they are also linked into the airflow of the main doll, meaning they don't need separate valves. Quite ingenious.
5. "Say My Name Baby, Say My… HOLY *&@#! That Doll Just Spoke"
There's nothing more discouraging that a silent partner in the bedroom, is there? We don't expect pornographic wails of over-enthusiastic ecstasy, but moaning and groaning is always welcomed. Cue the Linn Thomas Talking Sex Doll which does exactly that. She has a sensor nestled inside her sex doll vagina and ass that feels your thrusts and sparks Linn to react: "Oooh baby, right there, yeah…YEAH!". You know you're a cracking lover when even your sex toys can't keep schtum.
6. A Mouth You Can Vacuum Carpets With
Most sex dolls get that an open mouth is a welcome entry point, but not unlike inexperienced lovers they don't twig that the real pleasure to be gained is in the suction. The Jill Kelly Blow Job Sex Doll's pie hole is fitted with a special pump which comes out the side of her neck (medical fetish much?). When you squeeze down on the pump, her entire throat contracts and pulls whatever you've popped in there down her throat like a black hole does with a two-bit asteroid. The more frantically you pump, the harder she sucks.
Featured in this blog post: