The Magic of Wand Vibrators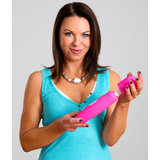 Wand vibrators are renowned for being able to deliver hugely powerful vibrations over a pleasurably large area. If you're a power queen that needs a strong level of vibration, you'll find a wand or massager vibrator just the ticket. Oh, and they're fairly satisfying on aching muscles too!
Read on to find our about our best selling wand vibrators and what real customers say about them in their sex toy reviews.
Tracey Cox Supersex Wonder Wand Power Vibrator - £18.00

"The most iconic sex toys seen in the last few years have been the pink rabbit vibrator and this power wand. A gift from my other half to pleasure myself with, I asked myself if it could be as effective as the rabbit vibrator? The answer is yes!
This wand is very powerful and the vibrations it creates stimulate you so much that it hits the spot every time. A very well priced toy, girlie colour, soft feel and flexible head that reaches the right place. A great toy for your partner to use on you as well, for a massage and more." Read the full review.
Wand Essentials Rechargeable 7 Speed Massage Wand - £54.99

"The seven settings allow you to work up through the power levels gradually, and the vibrations are so strong that even after playing with it for a week, and being an experienced toy user, level five is my maximum. For that reason, I'd say it probably isn't a great buy for toy virgins as you might not get the most out of it and could go with something cheaper.
But if you want to be buzzed until your eyes roll back in your head and you lose the ability to think or speak, this is the one for you." Read the full review.
Vibratex Mystic Wand Vibrating Massager - £30.00

"I have no problems coming, but like I mentioned I can take a while, and I very rarely come more than once. Yesterday was a different story. Let me tell you - very, very happy girl. With a favourite toy called Vibratex Mystic Wand.
And batteries? I haven't changed them yet. I'd say that's decent. So lots of power, pleasant material, fairly quiet, easy controls (and a little light next to them - nice under the covers - particularly with me on top, I enjoyed that ;)), and decent battery life. What's not to love? " Read the full review.
Featured in this blog post: