Spring Clean Your Underwear Drawer and Add Some Sexy Lingerie
Is your underwear drawer full of saggy-bottomed, fading, scraggly undies? If so, it's time to snap out of hibernation and those snuggly winter pants and put a spring in your (and your lover's) step.
We all know that wearing something new and a little bit exciting can do wonders for our confidence, but when was the last time you treated yourself to some sexy lingerie?
If you're thinking of getting something new, check out some of the sexy lingerie suggestions from our recent customer reviews. They've done the testing so you can work out what's going to work best for you. Each item creates a full outfit, so there's no need to search for matching knickers if you plump for one of these sexy lingerie sets.
'Sexy mama' finds a miracle-working bodystocking
Hustler Long Sleeved Lace Bodystocking
"I hadn't felt sexy for over a year, and my confidence was in my toes. I found this site and began to buy sexy underwear and my confidence is beginning to grow. ESPECIALLY IN THE BEDROOM! It covered all my stretch marks and still made me feel sexy. It gave me curves I didn't know I had! I would recommend this 100%."

Read the full review by sexy mama.
'Booties' tries a lavish, elegant bustier that's strokably soft
Sweet Streak Royal Brocade Bustier
"The boning in the bustier is fantastic, it draws your waist in, though not uncomfortably, following your natural shape… The material is lovely, the OH just held me and stroked me for a good while. The ribbon lacing is good quality too, unlike a lot of products!"

Read the full review by Booties.
A sensual, romantic set makes 'chipNroll' feel truly pampered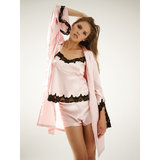 BlueBella Enchant Camisole and Shorts Set
"It's not the raunchiest of lingerie but I dare any woman to put this on and not feel sensual and pampered. This would make a nice gift for a woman in your life, perhaps as a more romantic alternative to the kinky lingerie blokes usually opt for. She'll thank you for it!"
Read the full review by chipNroll
'LittleKitty' finds a flattering, feminine chemise that has a sexy a peek-a-boo surprise
Queen of Hearts Pink Mesh and Lace Chemise
"Once you're in and it's on, it skims your waist and your hip. It accentuated my curviness without making me look fat… All in all I was very pleased with it. It wasn't on for long but I'll be using it again and would consider getting other lingerie in of the range knowing that this is quite a good fit for someone a bit conscious of their lumpy bits!"
Read the full review by LittleKitty.
One man, 'Adverb of Frequency', chooses a sexy set and scores the jackpot
G World Coup de Foudre Lingerie Set.
"This is a superb piece of very sexy lingerie, which should be owned by everyone!… The effect on both female and male is, I would say, exactly what good lingerie should do, that is; make the woman feel sexy and make the man want to feel her."

Read the full review by Adverb of Frequency
Featured in this blog post: