Can you help me to choose my first sex toy?
I usually recommend beginners start with a clitoral vibrator that's non-threatening and simple to use.

Question:
I saw your mention of Lovehoney in this week's Yours magazine, and I just wanted to thank you for putting me onto such a comprehensive site.
I intend to order my first sex toy, my only problem is which one to choose! Do you have any recommendations for what would be a good sex toy to start with please?

Julie Says:
I usually recommend beginners start with a small external (I.e. clitoral) vibrator that's non-threatening and simple to use. Bullet vibes are powerful but quiet and discreet - and most are waterproof, which is an added bonus.
Alternatively experiment with a small, uncomplicated finger vibrator which does what it says and just slips over your finger.
If you want to explore your G-spot, look for internal vibes (some are designed with a curve to hit the spot) and if you fancy both types of stimulation, consider a rabbit.
If you're not sure how much intensity you need, look for a vibe with a variable speed control, and if the buzz is too much for you, or you're worried your clitoris may become numbed by strong stimulation, then begin by trying it through your underwear.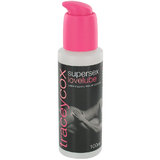 Always use a lubricant with sex toys, but check your lube before play commences. Silicone-based lube erodes silicone toys, and oil-based lubes will erode latex condoms, which some people use to cover their toys. The safest bet is a water-based lube, as it works with everything.
Refreshingly frank and funny, actress and presenter Julie Peasgood delivers practical information to transform your sex life. The Greatest Sex Tips in the World explores the world of eroticism, revealing secrets and techniques that will energise and enhance your enjoyment.