Sex Toy Reviews: New Shag Factory Bullets and Rings
A funky new collection of bullet vibrators and love rings has landed at Lovehoney. To celebrate the launch of the new Shag Factory range, we're looking at the top 5 most popular Shag Factory toys and what our reviewers thought of them in their sex toy reviews.
Shag Factory's hip range of skin-safe bullet vibrators come in playful 60s-inspired packaging, which pleased most of our reviewers (though one review didn't take to the lighthearted theme!). Inside the groovy packaging, seriously feel-good bullet vibrators and vibrating love rings are waiting to help you discover the true meaning of 'shagadelic'. Read on to find out what the reviewers thought. Yeah baby!
If you like what you see, why not take advantage of the special Shag Factory launch offer? Just buy two Shag Factory toys and get a Shag Bag (worth £9.99) free!
"You have three distinct settings ranging from a low but satisfying throb to a super strong but not too overwhelming vibration on number 3! Sound levels are good and not too noisy, but we wouldn't say it was whisper quiet! So far so good! On to the actual test then… The bullet felt good against our skin once lubed up, the vibrations were exactly as we stated earlier. We both used this on each other and had a very sexy time indeed! Would definitely recommend this bullet to anyone!"
Read the full review by Seduced.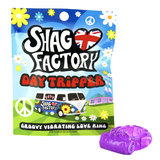 "This vibrating cock ring is pleasant to the touch with a jelly-like feel, and a nice thick ring. The vibrations are very strong, easily activated by the switch at the side, guaranteed to bring smiles on a rainy day trip. I particularly liked the packaging as well; it is hippie themed with a cute campervan on the front. Unlike most sex toy packaging this brought a smile to my face immediately, and I showed to off to my housemates - everyone enjoyed the novelty of it!"
Read the full review by bethanyelizabeth
"If you don't have this little baby you are seriously missing out! It has something for everyone I think - three speeds to meet everyone's different needs and the textures add that little something that makes it different from any other bullet I've tried. How much more can I rave about this?! It's just my new favourite (yes I did just say that!) toy! I think it'll be kept under my pillow for the next few weeks! It's that good I just can't put it down!"
Read the full review by Loves huni.
"The cock ring is very stretchy, so it is easy to put on and is not too tight when on. The vibrations create wonderful stimulation during intercourse, both for him and her. And I enjoyed all the small nodules. Definitely added something new to the sex and may get another in the future. I found the packaging great - simple, but funny and very tasteful for a sex toy. Would make a nice present for someone. On the back side there is basic information about the cock ring, how to put it on and information about vibrators."
Read the full review by Laveila.
"I waited till I was heading up to bed then I indulged in some solo pleasure. Got well lubed, slipped the Far Out Finger onto my middle finger then turned it on set at the slowest speed. The soft rubbery nobbly bits caressed my clit while the slow buzzes got my juices flowing. After a few minutes I kicked it up to the next speed which was slightly more powerful and worked me up to the edge of a big orgasm so I quickly put it up to the fastest speed which pushed me over the edge to a shuddering climax."
Featured in this blog post: