Can I use a cock ring to get an erection?

It's easier to put a ring on before you're erect.

Question:
I have just bought a set of cock rings from Lovehoney to help maintain my erection better. I know you recomend only wearing them for 20 minutes to half an hour, but can the ring be put on before I have a full erection to help get one, or do I have to be fully erect first?

Julie Says:
It's much easier to put a ring on before you're erect - especially the one that goes around both your penis and scrotum. You may find it helpful to trim or shaving some of your pubic hair on the scrotum and around the base of the penis, to prevent painful pulling.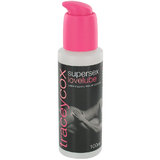 First of all, apply some water-based lubricant around the ring and also on yourself. Then, whilst your penis is soft, pass one testicle through the ring, followed by the second. Next ease the head of your penis through the ring, followed by the shaft (you may need to use more lube for this bit).
Then proceed as normal! If it all feels too tight, you may need a larger ring size - and it's best to start experimenting with a rubber ring, rather than a metal one, as they're much easier to remove. Keep an eye out for signs of constriction such as coldness or any noticeable feelings of discomfort, and remove immediately if you have any problems. And as you know, the safety guidelines are to only wear cock rings for thirty minutes at the most.

Refreshingly frank and funny, actress and presenter Julie Peasgood delivers practical information to transform your sex life. The Greatest Sex Tips in the World explores the world of eroticism, revealing secrets and techniques that will energise and enhance your enjoyment.