Male Sex Toy Guide: For Men Yet to Try and Women Who Wonder Why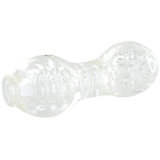 Before joining Lovehoney I had never man-handled a fake pussy and ass or any other exclusively male sex toys before. I've owned vibrators for over a decade but it had never occurred to me that during the whole of my adult life I had never been with a man who had owned or even used a self-pleasuring device on himself. I can barely name a female friend who hasn't.
When researching the joys of couple's toy play it seems to be the general assumption that women will bring the hardware and men are on the learning end of the bargain.
Advice and sex tips geared toward introducing toys to your relationship have a tendency to mirror this assumption with scores of sex experts opting for the female-friendly suggestion of bringing along some lube and one of your favourite vibrators. There's nothing wrong with that advice per se, but where's the balance? It seems that all camps are failing to champion the benefits of sex toys for men for both solo and couple's play… until now.
Thanks to media portrayals of sex toys, women's playthings have achieved a certain glamour compared to the humourous tags applied to male sex toys. Rarely discussed outside of slapstick-styled portrayals of blow-up dolls and penis pumps, the stigma attached to boy's toys seem to be stuck like glue. Painting men who own such devices as desperate and sexually inadequate when the fact is that they're often much more skilled and tentative lovers.
Reading through our forums you'll find posts made about and by women who are upset by the discovery of male sex toys in their partner's possession. The below is a post made by one of our forum members regarding his partner's reaction to the discovery of his Fleshlight:
"Hello. I've been using Fleshlights for a few years along with other toys because my girlfriend has a very low sex drive. I wanted to spice things up, so left a Fleshlight where she could find it and she wasn't too happy about me having it, even though she owns toys and used one on me once to see what it was like. Now she's really put off with it and with me. How can I bring her round to the idea of it?"
This hints to me that there are some double standards when it comes to sex toys, waving the flag of sexual liberation with our rabbit vibrators held high but looking at the male masturbator with a contemptible eye. Many of us will never have seen a male sex toy in the real-feel flesh before and it can make them confusing and at times threatening to our own sexualities. It's important to remember this is exactly how most men feel when they first meet a vibrator.
The stigma goes beyond the boundaries of gender as relatively few men compared to women will take the initiative to improve their sex lives by using sex toys. This may be attributed to the lack of publicity regarding boy's toys and lack of information available or it may not even have occurred to many men that they can improve their sex lives with themselves and their lovers by getting up close and personal with male sex toys.
Male Masturbators
Male masturbators come in many guises from hollow tubes to body-cast vaginas, with shapes and styles that are just as varied as sex toys for her. Designed to stimulate the penis to the point of orgasm, the male masturbator is to the man's bedside drawer what the rabbit vibrator is to a woman's - a simple way to achieve orgasm quickly without the sufferance of dulled intensity which we often experience during manual self stimulation.
No matter what the appearance on the outside, it's usually what's on the inside that really counts. Male masturbators are filled with widely-varying textures with lumps, bumps, waves, ridges, nodules and tendrils that are designed to provide intensely pleasurable sensations when stroked over the penis.
Individual Benefits
Increased sexual satisfaction during masturbation is the first and most obvious benefit for owners of male masturbators. Masturbation is a part of everyday life and most of us do it whether we have a partner or not. Buying any kind of masturbator is an investment in the quality of your self loving for the better. By using a masturbator you are likely to experience a more pleasurable solo experience as well as an increased intensity and duration when you reach climax.
Joint Benefits
Male masturbators can be used during couple's play as easily as a vibrator, dildo or other female masturbator. Bringing a male masturbator into the bedroom is likely to increase the duration of your foreplay as you experiment with the different ways you can use it. Many are open-ended which allows for use in combination with oral sex giving a deeper feeling of penetration while the closed-ended type can be used for mutual masturbation prior to penetrative sex. By prolonging foreplay couples are likely to experience a closer emotional bond and feel physically more sensitised which leads to more enjoyable and satisfying sex.
There are also male masturbators geared to help men improve their sexual stamina. One example is the Fleshlight STU (Stamina Training Unit) which comes with a regime of daily exercises that will increase a man's duration during penetrative sex. As the Fleshlight doesn't require pleasuring in return, it gives men an opportunity to experiment with techniques in solace while improving the duration and quality of their lovemaking.
Sex Dolls
Sex dolls, often referred to as blow-up dolls as many are inflatable, are male masturbators designed to closer emulate the look and feel of having sex with a woman. They are often smaller than real people to minimise the space they take up and can be made from multiple materials to closely resemble the various textures that the human body has to offer.
Sex dolls incorporate many of the same aspects of male masturbators such as textured penetrable canals which are generally in the mouth, vagina and anus.
Individual Benefits:
A sex doll is best looked at as a male masturbator living in a bigger house. They are designed to pleasure in the same way as male masturbators and often provide similar kinds of sensations, they also provide a closer-to-sex experience as dolls do not require hand action to stimulate.
Sex dolls have also been used as a form of therapy for many men who experience confidence issues, have lost a spouse or suffer from intimacy issues.
Joint Benefits:
By incorporating near-to-life-size housing for masturbation devices with anatomically correct placements, men can use sex dolls to better perfect their sexual techniques and improve their virility in a way that closely simulates sex with his partner. The extra practice will enhance your love life as he becomes more daring and experimental with his sexual repertoire.
Sex dolls are also used by couples as a step toward threesomes. Couples that have not yet decided to take the plunge or haven't found a suitable partner often turn to sex dolls to fill their third position. The realistic body parts and size of the dolls makes them ideal for experimentation together.
Penis Pumps / Enlargers
Penis pumps are the best known of these two devices for their ability to increase the length and girth of the penis by creating a vacuum that sucks the penis bigger. The penis pump is also a great sensitising device that will increase his sexual pleasure.
Enlargers come in many different shapes and sizes and often work by stretching the penis for extended periods of time.
It has been argued that these devices can't permanently increase the length or girth of penises, but thanks to the detailed reviews of each product you'll get a good feel of what penis pumps and enlargers can do for you and your sex life.
Individual Benefits:
With many users reporting increased length and girth, penis pumps and enlargers are a great choice for the body-conscious man who feels that what he's been given could be improved upon. by using the pump regularly and prior to penetrative sex, it is generally agreed that the length and girth of the penis increase at least on a temporary basis.
Many of our customers opt to use a penis pump or enlarger between one and two hours prior to sex so as to put these effects to good use. If you're sensitive about the size of your manhood and feel that you could garner some additional confidence by boosting your assets, then a penis pump or enlarger could make you feel less inhibited by your self-consciousness.
Once you're done pumping or stretching you'll feel the effect of all of that extra blood flow, it really gets the nerve endings in the penis excited. Penis pumps and enlargers make the penis more sensitive to touch than usual, improving sexual response to touch and thus the quality of orgasm.
Joint Benefits:
Jamsmeister summed up the joint benefits of penis pumps in his 7-week review of the Goliath Bathmate Hydrotherapy Penis Pump when he said that his penis "feels and looks more pumped", "stays harder for longer" and "goes for second rounds much quicker". These all benefit lovemaking with a partner and help to further sexual pleasure and satisfaction for both partners.
Partners with body confidence issues regarding their genitalia are likely to feel less inhibited in the bedroom, making sex feel more enjoyable for you both.
The extra length and girth will also be appreciated by partners, but it is still the technique that counts.
Prostate Massagers
The prostate gland produces the majority of seminal fluid and plays a pretty big role in a man's sexual function. Animal studies have shown that carcinogens such as 3-methylchloranthrene (found in cigarette smoke) are concentrated in the prostate and may build up over time. It is therefore recommended that men regularly ejaculate to prevent too many of these carcinogens amassing.
Prostate milking has been touted as the most effective way of clearing the prostate of old fluids and prostate massagers are the tailor-made toy that does just that. These anal toys are designed to stimulate the prostate directly, increasing the fluid levels produced and flushing the prostate out on the back of a knee-bending orgasm.
Individual Benefits:
Impotence has been related to prostate issues, so ensuring that your prostate is healthy will mean that you're less likely to suffer from erectile dysfunction. Those suffering from impotence can find that they're able to ejaculate via prostate stimulation even when penile stimulation fails, so it's a great way to clear the body when other methods fail. A prostate massager is the most effective way of milking the prostate and can provide some much-needed relief resulting in a happier, healthier you.
The sexual satisfaction that can be experienced when prostate play is incorporated with other sexual acts is unparalleled for men. Many men can achieve powerful orgasms without any external stimulation at all while others find that prostate play is an enhancement to their usual sexual stimulation, increasing pleasurable sensations and climactic intensity.
Joint Benefits:
If a man keeps his prostate happy he's likely to be healthier and happier as a result. By keeping his body free of nasties that can have a detrimental effect on his health you'll be able to enjoy him for longer.
Prostate stimulation can be easily incorporated during sex by sliding a finger into the anus or using a toy like the Aneros MGX Prostate Massager. His increased pleasure won't go unnoticed as he'll feel harder and stronger when he penetrates you. If you're a fan of slow and sensual sex you'll particularly benefit from the use of prostate massagers as many men prefer a gentle rocking motion against a prostate toy to vigorous stimulation.
For more tips on prostate massagers, check out our Prostate Massager Buyer's Guide.
Cock Rings
Not technically a man's toy, cock rings are bought for many different reasons. Some are performance related and designed to restrict blood flow within the penis to create a stronger erection whereas others are designed to stimulate and increase sensations for him and his partner.
Some cock rings owe their abilities to creative shapes that can stimulate everything from the penis head to the anus simultaneously, something any man would struggle to manage on his own while maintaining a good rhythm.
Others incorporate vibrating motors which turn his penis into a vibrating pleasure stick and some incorporate that buzzing sensation with multiple stimulating points. One such example is the Lovehoney Double Ding Ding Cock Ring which has a harness for the testicles with its own vibrating bullet, a firm cock ring and a second vibrating bullet that sits on top of the cock ring for stimulating a partner during penetration.
Individual Benefits:
Just like male masturbators, cock rings provide different sensations during masturbation which vary sexual experiences for the better. By restricting blood flow you will experience a different kind of masturbatory sensation that lasts longer and builds to an explosive orgasm.
Vibrating cock rings can prolong sexual pleasure by restricting some bloodflow while also adding the extra pleasure of waves of vibration travelling the full length of the penis, regardless of where you wear your ring. Those with additional stimulators can also involve your prostate, testicles and perineum that pleasure parts that you would usually ignore when using only a hand.
Joint Benefits:
For many couples cock rings bridge the gap between the clitoris and penis, allowing for better direct stimulation and increasing pleasure for her as well as the pressure on him to perform. If orgasming through penetrative sex alone is difficult for her, she'll find her chances of climax greatly increase with the use of a stimulating cock ring.
The restrictive nature of cock rings means that you'll both be able to enjoy your steamy sessions for longer as he'll stay harder for longer.
Vibrating cock rings transmit vibrations down the length of the penis and are strong enough to be felt by a woman inside and out, turning his penis into the most realistic vibrator you could hope for.
To read more about the different types of cock rings available and how they can improve your sex life, check out my Buyer's Guide to Cock Rings.
Lotions and Potions
No sex toy is complete without the associated lubricants and maintenance solutions. Some products have specific cleaners, powders and lubes, such as Fleshlights, which are manufactured to look after the materials that the toy is made from.
Water-Based Lubricants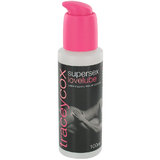 Designed for use with silicone toys, masturbation, oral and vaginal sex, water-based lubricants reduce friction between you and your lover or between the penis and sex toy to allow for easy penetration or wear. The lubrications also helps to sensitise the penis just as it does the vagina, increasing sexual pleasure for him.
Silicone Lubricants
A heavy-duty lubricant that is mostly associated with anal penetration and latex products such as condoms. Thicker and longer lasting than water-based lubes, silicone lubricants emulate a woman's natural vaginal lubrication much more closely. Silicone lube is also waterproof, making it a favourite for waterproof sex toys.
Sex Toy Cleaner
An antibacterial solution designed specifically for cleaning the various materials used to create sex toys. Sex toy cleaner ensures that toys don't get damaged during cleaning, are sanitary and helps to maintain their condition so that they last longer.