Top 10 Sexy Valentine's Day Gifts For Him
If it's the first time you've considered buying a Sex Toy for your man, you might be a little concerned about what his reaction might be when you present him with, say, a masturbator.
You needn't worry, thousands of couples happily play together in the bedroom with our best-selling range of sex toys for men - whether it's with masturbators or performance-enhancing vibrating love rings.
Share the pleasure, watch him pleasure himself or simply view it as an opportunity to indulge in a toy that can aid you in introducing new sensations and exploration to your sex life. The benefits are endless and Valentine's Day is a great excuse to treat your man to a present that will bring some excitement and pleasure to your relationship.
Check out Lovehoney's selection of top-selling, top-rated toys (and more!) that are guaranteed to be a hit with both of you on Valentine's Day.
With 100% Free Delivery on all products
What we say…
The Sensation Stroker from Tracey Cox is perfect for spicing up both solo sex sessions and erotic couple play. Three chambers produce incredible sensations as you stroke your shaft and the see-through sleeve gives you both an intimate view of the action. A unique experience on your own or with a partner.
What you say…
"Anyone can use this stroker and get full satisfaction 100% every time. It's even better when your partner plays as well, I managed to last just 6 minutes with her using both styles of play with the this Supersex Sensation Stroker. 10 out of 10 for look, feel and quality." Read the review.
What we say…
From zero to orgasm in no time, the Cobra Libre luxury vibrator from Fun Factory is specifically designed for men. Made from medical grade silicone, this rechargeable and waterproof toy handles like a dream and delivers deeply satisfying vibrations.
What you say…
"The moment I slid in and felt the buzz run down my shaft I knew this toy was the real thing. And it actually gets better. You can caress and massage your penis head by touching the top of the toy (the material is soft and luxurious). This increases the feel and intensity of the vibration.This is definitely the best sex toy I've ever used." Read the review.
What we say…
Pasante Magic Delay is a water-based lubricant specially formulated to make him last longer, for extended pleasure and an intensely sensual experience. It's got a slightly fruity scent, too. And people that have tried it out love it.
What you say…
"Just apply as you would a lube before penetration and off you go! It doesn't sting or have the burning effect you would expect from a delay potion, which is a really good thing. Good value for money for real extended play! Highly recommend this product!" Read the review.
What we say…
The Pink Lady Fleshlight Stamina Training Unit allows you to take that pressure off and train yourself in an environment that simulates the unmistakable feel and intense sensation of intercourse, without the pressures and anxieties of trying to perform. Its special internal contours have large bumps that ensure a satisfying tight fit.
What you say…
"Wow… I bought this for my hubby and couldn't wait to try it out! Although he says it's not the same as the real thing (but he would say that to me), it's certainly the next best thing! I found it very horny using this on my hubby and was turned on by the realness of it. Definitely recommend this to all you men and women." Read the review.
What we say…
Flamboyant and flouncy, these lace boxer shorts are perfect for the man looking for a bit of glamour and sex-appeal. With scalloped leg trim and a seamed front pouch to make the most of your assets. The perfect underwear for a look of allure and kink.
What you say…
"After receiving my pair of shorts I couldn't believe how sexy they looked and how comfortable they were to wear. I ordered another 2 pairs! Myself and my wife have a very active sex life and bringing these sexy garments into the bedroom has really enhanced it. Wonderful." Read the review.
What we say…
The Naughty Boy dual action prostate massager has a unique angled head is designed to hit the P-Spot and perineum together - once inserted, the silicone head nestles against the P-Spot, while the vibrating bullet end rests against the perineum - double whammy!
What you say…
"Bought this for hubby as he loves anal play. The material is soft and flexible and very easy to insert as it's not too wide. Just use lube, turn on the bullet and rock away. Hubby says it's fantastic for hitting every single erogenous zone and when it hit his prostrate he was in 7th heaven." Read the review.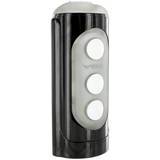 What we say…
Combining the best parts of the original TENGA Flip Hole with an entirely new internal texture and a sleek black exterior, the world's greatest male masturbator has just got better! Enjoy better-than-real sensations and a tighter feel, right now!
What you say…
"The TENGA Flip Hole is definitely the new standard. The internal silcone 'landscape' creates an amazing feeling across the entire shaft. There is so much variety in every smooth stroke that it sent powerful waves of ecstasy through my entire body. This is the Ronseal of male sex toys." Read the review.
What we say…
Powerful and cunningly designed, the Supersex Vibrating Twin Love Ring brings you double the pleasure and keeps him firmer for longer-lasting erections. Combine with the intense vibrations of the bullet vibrator and prepare for some incredible orgasms.
What you say…
"Hubby put it on straight away again using some lube, almost immediately his cock looked so much bigger. The vibrations are really strong because it is a proper bullet vibe, it is far superior than other vibrating rings we have had in the past. I think every couple should have one of these in their toy box! " Read the review.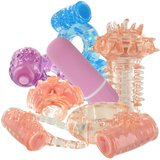 What we say…
It's a bumper pack of instant sexy fun. With 7 toys from the BASIC Sex Toys range - including four cock rings - it's the perfect way to introduce some vibrating excitement to your relationship in a fun and affordable way. Great for beginners, or a brilliant bundle to take away for a sexy weekend - and blokes love big packs of stuff, of course!
What you say…
"Not used to sex toys and unsure what you'd like? This is a great low-cost way to experiment with a few different ideas - you have a selection of different cock rings and vibes ready to go. There's nothing complicated here; simple single-speed switches but don't be fooled, they do the intended job very, VERY well." Read the review.
What we say…
The world's first mobile phone sex toy for men! The Lovehoney VibraExciter's twin-bullet cock ring is activated when the wearer receives a call or a text message on their mobile phone… And then the fun begins. VibraExciter operates within a 0.75m range of your mobile phone… in fact any mobile phone, so be careful on the bus!
What you say…
"It's put a smile on the husband's face! The 10 different functions were easy to use and felt great. He had a lot of fun getting me to ring and text him! Overall I would say this product was great! Vibrations were very strong! Well worth the money!" Read the review.