Top 10 Sexy Valentine's Day Gifts For Her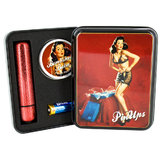 Buying a Valentine's gift with a difference can be tricky… but providing you know your partner well enough, if you dare to be different, you can look forward to 2011 being your sexiest year yet.
To give you a helping hand we've come up with a list of 10 fab toys, lingerie and gifts that are guaranteed to heat up the bedroom for months to come. Whether you treat her to an exquisite piece of sexy lingerie or a teasing vibe to help you explore each other's erogenous zones, adding a little spice to your Valentine's gift buying will be liberating for both of you. And at the very least, you'll both have a great giggle!
Read on to discover our choice of best-selling, top-rated sexy Valentine gifts and find out what real Lovehoney customers have to say about how they enjoyed their experiences…
What we say…
The world's most popular vibrator hits the G-spot! Based on the popular Jessica Rabbit 2.0 Vibrator design, this unique sex toy is packed with your favourite features but has an added bonus - it's perfectly designed to hit the G-spot.
What you say…
"I was in absolute heaven from the first use! The slender, smooth shaft is amazing for penetration and the bent tip really hits the G-spot! I've tried about 4 other G-spot toys and this is the only one that has successfully hit it without fail." Read the review.
What we say…
Make a present of yourself with this clever giant sash designed to turn you into a perfectly wrapped gift. And you can guarantee someone special will want to unwrap you.
What you say…
"Men are so hard to buy for, so I decided to give myself as a present! I've never seen him so happy, it was a really great idea. I found it fairly easy to put on although I would recommend trying it on first so that you make sure you can actually tie it because it can be a little slippy." Read the review.
What we say…
Sqweel is a revolution in orgasms! The sensational oral sex simulator has a wheel of 10 teasing tongues that will lap you to orgasm time and time again. Make sure you get your specially formulated Sqweel Lube!
What you say…
"The sensation is exactly the same as someone's tongue. Needless to say when moved down to the clitoris, it only gets better. It's like having 10 men go down on you at the same time with 10 tongues hungrily lapping at you - or it's like what I imagine that to be in my fantasies!" Read the review.
What we say…
Beautiful, Swedish-made rechargeable lipstick vibrator with 4 discreet but powerful stimulation modes. It delivers up to 4 hours of intense pleasure between charges - and best of all it's USB compatible so you can simply charge it on a computer!
What you say…
"The Mia works like a dream – just when you think you've reached the top speed it seems to be able to give you some more. And the best thing about it is – it doesn't chew up batteries! Environmentally friendly as well! " Read the review.
What we say…
This sexy basque wouldn't look out of place in the Moulin Rouge! The Parisian ruffles, the burlesque bows and the Victorian inspired skirt combine to create a gorgeous piece of lingerie that you can dress up or down.
What you say…
"If I could, I'd wear this all the time as I makes me feel so good. You won't be disappointed with this – you don't have to have the perfect size 10 hour-glass figure to look good. It's a must for everyone. Sexy, flattering – getting ready for some corset ripping!" Read the review.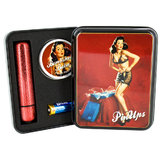 What we say…
Release your inner glamour girl with this beautiful burlesque gift set. Inside the Pin Ups tin you'll find a glitter-finish, 3-speed waterproof bullet vibe and Bombshell Orgasm Balm. Perfect for sharing, combining and most importantly, climaxing.
What you say…
"This bullet is fab! When I saw it I knew I had to get one, and not only because of how pretty it is - as a sex toy it appealed to me. The balm was really helpful and with the bullet and its texture plus its vibes, it gave me one of the most intense orgasms I'd ever felt." Read the review.
What we say…
Share a thrilling, sexy secret with your partner! With 10 functions packed in the Dream Egg 2.0, you can experience pleasurable hands-free pulsations and patterns at the touch of the button. The question is: who'll be in charge of the remote?
What you say…
"We've never tried an egg before, so I wasn't sure what to expect but oh my God! It's amazing. Everyone needs one. The NHS should hand them out free. The different settings are perfect because you never know what you're going to get next. It's everything you could ever want in a sex toy." Read the review.
What we say…
Untying a bow, whether it's on a birthday present or this bra set, is an utterly exciting experience! Enjoy the feel of sheer stretch lace against the skin then slowly untie each silk ribbon… utterly mesmerising!
What you say…
"I'm a size 32A and this fits me really nicely. I would imagine it should fit the other sizes very well also, as the side ties on the thong and around the back of the bra are very long. My fiancé loved this set too, and thought it was very sexy!" Read the review.
What we say…
A slim, super-strong waterproof vibe from sex expert Tracey Cox. The Supersex Bullet Vibrator is small enough to take anywhere but strong enough to deliver intense vibrations whenever you need it. Stylish and discreet, it's perfect wherever you go!
What you say…
"It's gorgeous looking, discreet, really quiet and gosh it's powerful! Normally it takes me a little while (in fact a frustratingly long time) to reach my peak but with this I was there in less than a minute! I could feel my orgasm pulling in seconds! Just wow! I've never known anything like it. " Read the review.
What we say…
Shimmering, sparkling… and that's just his eyes when he sees you 'wearing' these beauties. Make his day (year!) with these shiny heart-shaped nipple tassels… get the right movement and you'll make them twizzle… and him sizzle!
What you say…
"I think the biggest advantage of these is that they make me feel very sexy, and more assertive. My hubby was really pleased and surprised. I highly recommend using these to add a little extra spice into the bedroom (or wherever one wishes to use them). I look forward to using them again." Read the review.