How to Get the Ultimate Valentine's Day Experience
Don't get stuck in a romance rut! It's time to dodge the wilting roses and over-priced Valentine's Day set meals and put some effort into creating a thoughtful, sensual and surprising experience for the object of your affection.
With Valentine's Day falling on a Monday this year, it gives you the perfect opportunity to celebrate the weekend before and take the pressure off the 14th. Break out from your usual seduction routine to ensure a happier, sexier and more memorable Valentine's Day.
Whether you're planning on a weekend getaway or just shutting the curtains for a romantic staycation, take some (or all!) of the ideas in this blog and make your Valentine's celebrations filled with fresh, sexy experiences.
With 100% Free Delivery on all products.
Start as You Mean to Go On
Allow your passions to gradually grow through a series of sensual encounters and you'll benefit from prolonged pleasure and a closer connection with your lover. Set the scene for an explosive evening with these fantastic toys for better foreplay.
So, you've just made your way to a boutique hotel or given your own bedroom a romantic makeover? It's time to lose yourselves in sensual ecstasy, and by obscuring your vision you'll find each touch or stroke will become heightened and more erotic. Slip this pure silk blindfold over your lover's eyes and indulge in the pleasures of mystery and sensory enhancement in absolute luxury.
If you're on a smaller budget, see our full range of blindfolds.
Now it's time to turn up the sensory play even more with this voluminous tickler. Stroking soft feathers over your lover's body can be teasing, exciting or relaxing (try to avoid actually tickling!).
If your partner has agreed to be blindfolded, they'll find the sensations produced by tickler are intensified. Sweep the feathers sensually over their body to awaken every nerve ending and prepare them for a night of exquisite pleasure.
Move on from gentle strokes to a deep, relaxing massage. This sleek massage oil treads the perfect balance between being easily absorbed and yet slick enough for a long-lasting massage. With its sweet scent, your lover will experience a scrumptious smell as well as your sensual touch.
From the scent to the smooth iridescent sheen (from 24 carat gold flakes), it's the ideal way to put a smile on your lover's face.
Once you've awakened your partner's senses it's time to start playing Nookii, the ultimate game for playful lovers. Open to sexy interpretation, it's easy to get carried away together.
With its combination of timer, dice and increasingly suggestive cards, you never know what's coming or how long you'll be doing it for! By the time you get to the highest intensity of play, you'll be ready to move on to the main course…
The Main Event
You've laid the groundwork for an unforgettable night, so make sure you give the same care and attention to the main event as you have to foreplay. To make Valentine's Night one to remember, try out something new to surprise and delight your lover.
Whether you decide to perform a sexy striptease or let your lover undress you, surprise your partner by revealing your body adorned with sparkling diamanté shapes. Choose your favourite design and decorate any part of your body you desire.
Vajazzle transfers are easy to apply and don't just have to be used on intimate areas - they look great everywhere, from hip to stomach to décolletage.
Succulent strawberries have always been associated with romance, and with this flavoured lubricant you can feast on strawberries while you give your lover exquisite pleasure.
Flavoured lubes are a great way to encourage licking, sucking and all-round sweeter oral pleasure. Non-sticky and long-lasting, this lube will also make sex smoother and more sensual.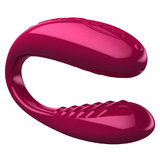 The We-Vibe II is a unique toy, specifically designed so couples can add vibrations to their lovemaking with ease. A clitoral and G-Spot vibrator, it can be worn during sex to deliver thrilling sensations to your both.
It's a fantastic way to bring experimentation into the bedroom, especially if you're already used to playing with toys, and the new red model is perfect for Valentine's Day.
Don't Let the Romance Stop
So you've had a fantastic weekend and there are smug post-coital smiles all round? Build on your rekindled connection by promising to keep up the effort throughout the year.

Packed with sexy ideas, love notes, vouchers and more, this set of 52 cards ensures that your romantic intentions will last the course. Delve into the satin bag and choose a romantic suggestion to complete during the week.
Each romantic idea is a scratch card, so the ideas are truly surprising each week. No sneaky peeking or choosing your favourites allowed!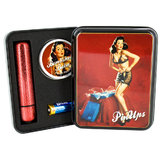 Indulge her with a memento of a fantastic Valentine's experience by giving her this retro-glamorous tin of goodies, preferably with a big bow and heartfelt gift tag.
Contained within the gorgeous Pin Ups tin is a small, powerful bullet vibrator and a tin of sensation-enhancing clitoral balm that we're sure will be put to use when you're together, and when she's alone and recalling hot, steamy nights of passion.