Lovehoney's Top Sex Resolutions for 2011
As the clock strikes 12 you'll be faced with the same tiresome choices of New Year's resolutions that are admittedly done with a certain amount of lack-lustre intent and will inevitably be broken as soon as the January depression kicks in.
So why not set yourself on a different path for 2011 and invest in some changes that will improve your sex life and relationship? While everyone else will be suffering with their gruelling detox diets, you'll be kick-starting 2011 with sex-fuelled promise upon reading Lovehoney's Top Sex Resolutions.
Sexercise
Whilst a lot of us focus on getting our bodies back in to shape in January, few remember to do the same for their sex lives. Sex can be just as important to our wellbeing as our BMI or how often we work out - let's not forget, sex is a work out too, just a lot more fun! It is a common assumption that anything that feels good can't possibly be beneficial to your health but this is where sex defies the rulebook.
A healthy body equals a healthy mind… and a healthy sex life! Research shows that just thirty minutes of exercise a day can boost your sex drive, burns 150 calories and it even lowers your cholesterol as well as improving circulation. Deep breathing supplies fresh oxygen and hormones to the brain and other organs, flooding your body with goodness and vitality whilst improving your general fitness levels.
With exercise comes a toned body and its not just our abs and biceps that can benefit from a dose of exercise. Kegel Exercisers and Balls are a fantastic way of toning and strengthening your pelvic floor muscles as well as providing stimulation. The stronger your pelvic muscles the easier it is to achieve intense orgasms and is a tried and tested way of exercising your way to a better sex life for both you and your partner, with increased confidence and feeling for both of you.
Revamp Your Lingerie
Mismatched, baggy and grey underwear spells disaster for those looking to find their dream partner or rejuvinate a tired and flagging love life, which is why sexy new lingerie is the best way to kick-start 2011. We're not talking about buying a pack of five matching knickers from your local supermarket as a cost-effective and lacklustre measure. We're talking investment pieces for your lingerie draw and love life that will give you a new lease of Marilyn Monroe style sex appeal and make your lover feel like they have just walked into the wrong bedroom.
The reasons why this is a winning resolution is clear. You can boost your body confidence with a selection of waist-cinching Bustiers and Corsets, tempt and tease in a Bra Set or smoulder in a pair of Suspender Stockings. If you can slide into some Sexy Lingerie at a moments notice without having to rummage around for a vaguely acceptable pair of knickers, safe in the knowledge that you have got some lingerie to match the intentions of the weekend, then you'll be off to a flying start.
Try Something New
Nothing is worse than having to listen to your friends boasting about their amazing sex lives, indulging in positions contortionists would proud of and swanning around with permanent post-orgasmic glee on their faces. If your sex life has become stagnant, non-existent or lacking in imagination, it is time to resolve this and add sexual pleasure and exploration back on the agenda.
Lovehoney has an extensive range of books to guide you to a better sex life which are far more productive and exciting than the usual diet and detox books everyone reaches for as soon as the festivities are over. Tracey Cox's Hot Sex is the perfect antidote to the cold and depressing month of January and is aimed at anyone who wants to transform their sex life from so-so to sizzling.
Sex Games are also a tried and trusted way of adding a new level of fun and excitement into your relationship and Lovehoney has a whole host of fun sex games for couples looking to connect and rediscover each other. From Karma Sutra Foreplay Cards, to Sex Dice and sexy board games, you'll find the one for you with the Lovehoney Guide to Sex Games.
Invest in Good Vibrations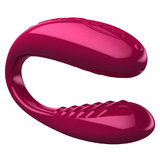 A treasured and fully embraced sex toy by women for many decades, the vibrator has evolved from a steam powered device known as the "Manipulator" to the modern day Jessica Rabbit 2.0, delivering good vibrations on a global scale. Known first and foremost as a staple for single ladies, they are now a key ingredient to many a couple's healthy sex life.
If you want to turn the tables on your partner and give him an unforgettable Rabbit Vibrator experience, follow these simple instructions: Get your partner to lie flat on his back with his legs open, then switch your Rabbit vibe to its lowest setting to get him used to the vibrations (you can eventually work up to the faster speeds and vibrating patterns). Gently take the vibe in one hand and your man's penis in the other, lick the top of his penis and hold the vibrating Rabbit against the shaft of his penis. Continue to do this until you can manage to put his penis in your mouth while moving the vibrator around his shaft, not forgetting his balls and perineum.
Now this is just one way of introducing some pleasure-filled vibrations into your sex life and no doubt a good way of starting as you mean to go on. If you're looking for something else that adds both a unique and luxurious addition to your sex life, Lovehoney also recommends the We-Vibe 11 New Model Clitoral and G-Spot Vibrator, the 2009 Sex Toy of the Year for Couples. Its slick and ergonomic design means women can use it internally while also having penetrative sex with their partner, delivering maximum satisfaction to you both.
Erotic Foods
5. Eat Your Way to Better Sex
Instead of cutting down on food, why not expand your usual repertoire and treat your taste buds as well as your sex life? Oysters are not only highly nutritious, they are low in fat and high in zinc which is ideal for escalating the production of sperm and increasing testotsterone levels. Our brightly coloured root vegetable friend, also known as the beetroot, is loaded with the mineral Boron, thought to influence the production of sex hormones in both men and women.
If munching on nuts has more appeal, why not try almonds? Often given as wedding favours, they have long been regarded as a sign of fertility, containing high levels of phenylethylamine, the feel good amino acid, and also contain essential fatty acids. Indulge your sweet tooth and increase your sexual urges at the same time by chewing on liquorice, renowned for giving women's libidos a boost in the right direction.
We don't want anyone going hungry so if chewing liquorice isn't your thing - why not sniff a cucumber? Yes, you heard right. Dr Alan Hirsch, Director of the Smell and Taste Research Foundation in Chicago, has discovered that women get incredibly aroused by the smell of cucumber. We are equally as baffled but who are we to argue if it means you can eat your way to a happier sex life in 2011?
Pure and Simple
Using organic and vegan friendly products is a great way to keep the body cleansed from the inside out. Yes Organic Water Based Lube, is made from Organic aloe vera. Sensuous and skin nourishing, it is also suitable for vegetarians and certified by the Soil Association.
Put the play back into your foreplay with a Jimmyjane Afterglow Natural Massage Oil Candle. These sensual massage candles are rich with Jojoba, Shea Butter, Vitamin E, Soy and Aloe, perfect for refreshing your skin after too many festive, wintery nights out. Just wait 15 minutes for the oils to melt in the candle, blow out the wick, then slowly dribble onto the skin for a nourishing and sensual massage!