I get recurring cystitis. Is it related to frequent sex and the size of my boyfriend's penis?

Lots of sex can increase the risk of cystitis which is why it is nicknamed the 'honeymoon' disease.

Question:
I keep getting cystitis. I have been on antibiotics but they give me thrush so was hoping you could suggest a way I can prevent these attacks. My bloke has a big penis and we have a lot of sex. Is this causing it?

Julie Says:
Lots of sex can increase the risk of cystitis because bacteria can be introduced into the bladder (through the urethra) during sexual activity. That's why cystitis is nicknamed the 'honeymoon disease', because you're more likely to be at it like rabbits in the honeymoon phase of your relationship.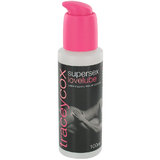 You're also at greater risk if you're not sufficiently lubricated, because the delicate vaginal tissues can become bruised - so if you are ever dry it's worth trying a water-based personal lube, which should really help. The Tracey Cox Supersex Love Lube 100ml is water-based and also contains ginseng and aloe vera, renowned for their soothing qualities.
I'm a sufferer too (many nights spent clutching a hot water bottle or soaking in a warm bath) and the best way I've found to prevent an attack is to empty your bladder as soon as you can after intercourse, so you 'flush away' any germs - and make sure you always wipe from front to back after using the loo.
Cranberry juice is thought to help stop bacteria sticking to the urinary tract, and eating raisins can also help - but do steer clear of alcohol during an attack. Constipation can also make your symptoms worse, as can using perfumed soaps and talc on your genitals. Finally avoid tight trousers and wear only cotton undies.

Refreshingly frank and funny, actress and presenter Julie Peasgood delivers practical information to transform your sex life. The Greatest Sex Tips in the World explores the world of eroticism, revealing secrets and techniques that will energise and enhance your enjoyment.